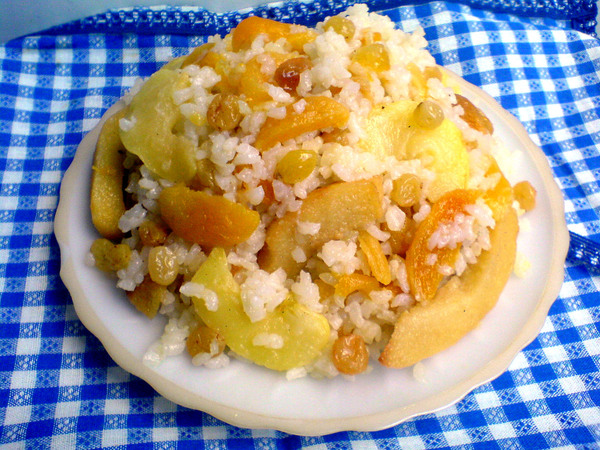 variegated, pilaf tasty fruit and raisin may be formulated in two embodiments,. Unsweetened fruit pilaf, with carrots and onions, It serves as a main dish or a side dish to meat or poultry. Besides, it can be cooked as a sweet dessert, such fruit pilaf are ideal for children's menu. Sweet pilaf can be prepared with any seasonal fruit: plums, quince, peaches, etc. Pilaf is tasty and cold.
Will appreciate this lightweight and low-calorie and those pilaf, who are watching their weight, multivarka since its preparation for use the minimum amount of fat. If the risotto cook in vegetable oil, it can be used during Lent.
1. Pilaf with dried fruits and raisins in multivarka
To prepare the pilaf with dried fruit and raisins in a slow cooker, we will need:
rice (better to take a variety of Basmati rice or parboiled) – 1,5 c., water - 3 c., raisins - 0,5 c., astrologically - 0,5 c., prunes - 0,5 c., carrot - 1 PC., melted butter - 80 g, barberry, turmeric - a 0,5 ch.l., salt - to taste, 1 ch.l. Sahara.
How to cook risotto with dried fruits and raisins in multivarka?
1. Carrot peel and cut into medium-sized cubes.
2. Figure rinse thoroughly, raisins and dried fruits bust, washed and scalded with boiling water, If dried apricots or prunes large, you can cut them.
3. Fry carrots with raisins and dried fruits 10-15 minutes in a bowl of melted butter on multivarka in "Roasting / Baking" mode, stirring. disable mode.
4. Fall asleep on top rice, smoothed, salt to taste, put sugar and sprinkle with spices, Fig pour hot water.
5. Cook in "Pilaf" mode about 20-30 minutes, then disable mode.
6. Stir and serve as a main dish or a side dish, pilaf can be decorated with pomegranate seeds and nuts. Nuts used any, but most of all - walnuts, almond, fistashki. They can also be fried in ghee together with dried.
2. Pilaf with sweet apples and apricots
To prepare sweet pilaf with apples and apricots, we will need:
1,5 Article. rice, 3 apple, 5 apricots, 2 Article. l. ghee or butter, 3 Article. water, 1 st.l. honey, a pinch of salt, turmeric, barberry.
How to cook risotto with sweet apples and apricots in multivarka?
1. Apples and apricots wash, cleaned of seeds and cut into slices. Figure rinse well.
2. In the bowl of warm butter Multivarki, setting the "Baking" mode and lightly fry the apples and apricots. disable mode.
3. Top fruit to fall asleep rice and flatten, Pour hot water, put spices, honey, and salt and cooking in "Pilaf" mode about 30 minutes. disable program, Fig check for readiness, if necessary, leave the heating on for another 10 minutes, that he came to the readiness (because different varieties of rice have).
4. Ready pilaf mix and serve, garnish with nuts, slices of apples and apricots, pomegranate seeds.
How to cook risotto with apples and apricots in multivarka recipe videos: