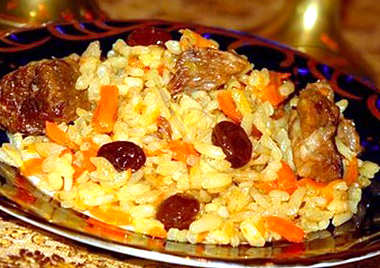 Try this amazing cook pilaf or other types of meat or poultry. The main difference between this royal dishes from simple pilaf are added thereto pistachios and raisins. This pilaf can be a highlight of the festive dinner.
Pilaf with lamb and raisins in multivarka
To cook pilaf with lamb and raisins in multivarka, we will need:
lamb - 0,5 kg, Figure - 1 c., water - 2 c., onion - 2 PC., carrot - 2 PC., raisins - 0,3 c., fistashki - 0,3 c., melted butter and sunflower, chili powder and black pepper - to 0,3 ch.l., Zira - 0,5 ch.l., garlic - head, salt - to taste.
How to cook the pilaf with lamb and raisins in multivarka?
1. Rinse the meat and cut into medium-sized pieces, wash rice, onions and carrots cleaned and cut.
2. In a bowl Multivarki pour vegetable oil and cook it under the lid closed 3-5 minutes, setting the "Baking" mode 40 minutes.
3. Fry onion and carrot in hot oil 5 minutes, Add the melted butter and the meat and continue to fry for another 15-20 minutes, stirring constantly, in the end, add the spices and raisins.
11. On top of roasted meats and vegetables fill Figure, put peeled pistachio and pour hot water, install "Pilaf" mode and is ready to signal.
12. Pilaf mix and leave for another 15-20 minutes under the lid, then serve up with fresh vegetables and herbs.
Cooking Tips:
This can be cooked pilaf with chicken, beef or pork, also add prunes in it, apricots, and slices of quince, Pistachios are often replaced with almonds.
Choose meat pilaf young, with fat, figure better to take the steamed.
Videos for the preparation of the Royal pilaf in multivarka: