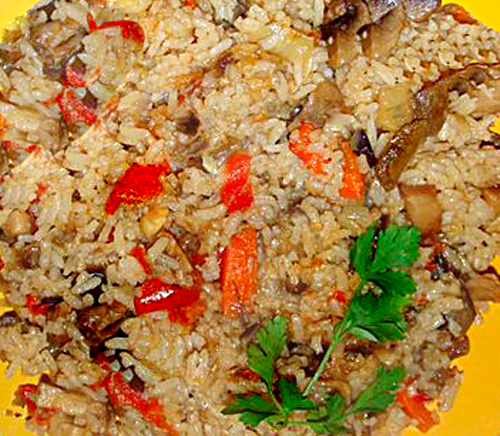 Very interesting vegetarian pilaf can be prepared, using enough unexpected combination fungi, eggplant, tomatoes and sweet peppers. But, However, this pilaf turns out to be extremely tasty. In multivarka pilaf cook simply and effortlessly, Figure it turns crumbly, well soaked with the juice of fruits and aromas of spices.
Pilaf with mushrooms vegetable vegetarian in multivarka
To prepare the vegetable risotto with mushrooms vegetarian in multivarka, we will need:
0,5 kg of mushrooms, 0,3 kg eggplant, 2 PC. bell pepper, 2 PC. Luke, 4 PC. tomatoes, 1,5 Article. water, 260 Mr. rice, 0,5 Article. vegetable oil, 1 green beam, salt, garlic, spices for pilaf.
How to cook vegetable risotto with mushrooms vegetarian?
1. Vegetables and mushrooms to clean and wash, cut into medium sized slices or cubes. Wash rice in several waters to their full transparency. Herbs and garlic finely chopped.
2. In a bowl pour the vegetable oil Multivarki, in a programme "Baking / Roasting" for 10 minutes lightly fry the onion and carrot.
3. shut off program "Bake" and install "Pilaf" mode add to bowl consistently mushrooms, eggplant, bell peppers and tomatoes, put rice on top. Pour hot water, salt and spices to put, greenery.
4. After cooking mix the contents of the bowl and serve with tomato sauce acute.