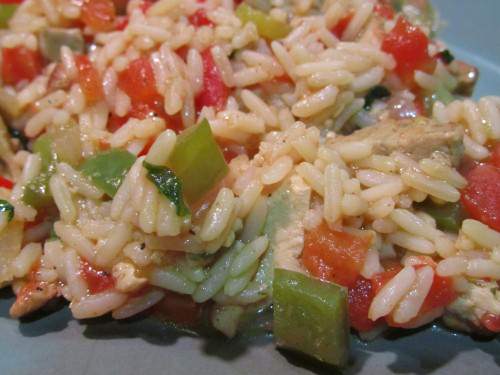 Pilaf with vegetables vegetarian via Multivarki cooked very simply, but by the content of vitamins and minerals is very impressive dish. This risotto is particularly suitable for those, who adhere to a healthy lifestyle and want to lose weight.
Pilau rice with vegetables vegetarian in multivarka
To prepare delicious vegetarian rice pilaf with vegetables in need multivarka: zucchini, carrot - 2 PC., bow -2 PC., 1 Article. rice, 5-6 medium tomatoes, 4-5 Bulgarian Red Pepper, It can be part of the yellow and green, 200 g vegetable oil, preferably olive, salt, pepper, a little marjoram, garlic if desired.
How to cook vegetarian risotto rice with vegetables in multivarka?
1. Vegetables and cut my. Courgette and onion diced, three carrots on a grater, pepper cut into strips, sliced ​​tomatoes, wash rice.
2. In a bowl, pour the oil, Install the program "Baking / Roasting", We begin to lightly fried zucchini, carrots and onions, bit solim, mix. Laid top layer rice, flatten it, place a layer of tomato and pepper, sprinkle a little salt, garlic and spices, We put the program "Putting out" on 50-60 min.
Cooking Tips:
Although not required to add a prescription water, vegetables should let the juice, but some water still can add.
With tomatoes better Skinned, especially, if it is thick. Put them in boiling water for a few seconds for blanching, and skins will be easy to remove.
The pilaf can optionally add canned green peas, corn, mushrooms, struchkovuyu fasol.