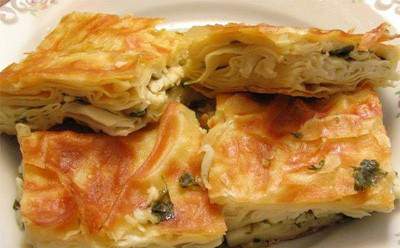 From the finished thin pita can be prepared not only rolls with various fillings, but also pies, which are obtained in particularly good multivarka. Such "lazy" cakes can be with a variety of fillings, e.g. cheese, meat, vegetables.
Pie pita c cheese (lazy achma) in multivarka
To prepare the pie pita with cheese in multivarka, we need:
200 g cheese, 200 g cheese, fresh dill, 2 Article. yogurt, 4 eggs, 3 thin sheet Lavash, 2 st.l. butter.
How to cook a pie with cheese pita in multivarka?
1. Cheese and cheese rub on a medium grater, mix with finely chopped greens and one raw egg, stir.
2. Beat eggs with yogurt, salt and poperčite.
3. Multivarki bowl brush with butter, Cover the bottom sheet Lavash, raised edges and placing them on the sides of the bowl. The second sheet of pita divide into small pieces.
4. In the first place a layer of pita half cheese mass with greenery, second pieces on top position Lavash, dipping them with pre-egg mixture kefir. Then place the remaining half of the curd.
5. Close all the top edges of the first lavash, raising them and by bending the middle.
6. Above the third place pita, fill it residues egg mixture and spread with butter.
7. Bake the cake in "Baking" mode 50-60 minutes. Cake flip to the other side, and continue to bake mode "Baking» More 40-50 minutes.
How to cook a pie with cheese Lavash (ACMA) in multivarka recipe videos: