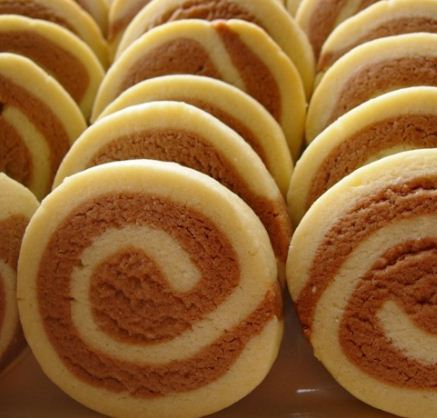 children, and adults will enjoy this cute two-color biscuits. In multivarka cook it in the cellar. Especially handy is the cookie oven in summer, in the country, when the oven is too hot to stand, because with the assistant multivarka-summer heat is absolutely not afraid of, and the oven does not need!
Cookies "striped" in multivarka
To cook biscuits "in the Striped multivarka, we will need:
1 egg, 100 g butter, 0,5 Article. Sahara, 2 Article. flour, 1/4 ch.l. soda to extinguish vinegar, 1 st.l. cocoa, butter for greasing.
How to cook biscuits "striped" in multivarka?
1. Chilled butter knife to chop or rub on a grater.
2. Add 1 egg, repaid cider vinegar soda (vinegar to take about 0,5 st.l.), sugar and flour, mix components to producing an elastic dough.
3. Divide dough into two parts, one of them add cocoa and carefully Stir until smooth.
4. Every part of the roll out in a rectangular formation 3 mm, they must be of the same size. Impose on the white layer of dough dark plas, then gently, not crushing, the resulting roll blank in roll. Put in polyethylene roll and put in the refrigerator 30 minutes.
5. Cut slices roll width 1 cm. Try not to mix stripes.
6. Oil lubricates the cup and the workpiece laid, leaving small gaps between them, Because the liver is increased in volume.
7. Bake 30 minutes in the "Baking" program. Before baking the next batch, do not forget to grease cup oil.
8. Top of cookies can be sprinkled with powdered sugar, lubricate the jam and sprinkle with chopped nuts or poppy seeds if desired.
How to cook biscuits in multivarka recipe videos: