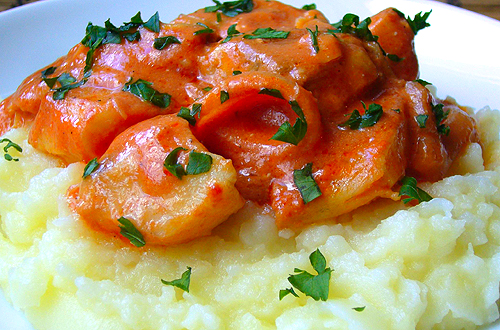 Hungarian cuisine is known for its commitment to the Spice Island, such as pepper, paprika, for onions and tomato sauce. Dishes are hearty, bright, fragrant, GUCI. One of the most popular dishes in Hungary - is paprikash, has received world fame. It is prepared from chicken, fish, lamb or veal. For this dish is traditionally not used hard and fatty meats.
Paprikash fish in multivarka
To cook paprikash fish in multivarka, we will need:
fish fillet - 300 g, bow - 1 PC., tomato paste - 2 st.l., cream - 0,5 c., vegetable oil, Bay leaf, allspice, salt, ground black pepper, PIP, parsley, pepper by taste, garlic, Bulgarian pepper - 1 PC., water - 0,5 Article. (you can substitute red wine).
How to cook fish in paprika multivarka?
1. Fish fillets defrost when needed, remove the seeds if present, wash and cut into squares of medium size. onions clean, wash and cut into half rings. Bell pepper cut into strips.
2. Set "Baking" mode, Multivarki in a bowl add the vegetable oil, fish fry 10 minutes, then the onion and bell pepper, continue to stir fry for 10 minutes, stirring.
3. "Baking" mode disable and set the "Quenching" mode, Add the cup of tomato paste, sour cream, salt and spices, and hot water, Stir and cook 30 minutes under the lid.
4. Serve with mashed potatoes (rice, pasta), herbs and fresh tomatoes and cucumbers.
Cooking Tips:
Tomato paste can be replaced with fresh tomatoes, they will need to cut into cubes.
If desired,, in a dish, you can add peas or canned mushrooms natural.