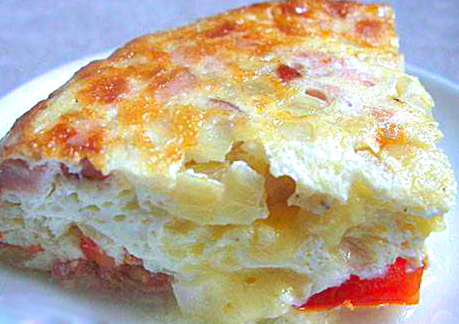 If in the refrigerator were boiled pasta, and reheat them have no desire, then using Multivarki, one can quickly and easily make a delicious and satisfying meal for lunch or dinner. Take it to a note, it will help to diversify the menu, and will enjoy home.
Omelet with ham and macaroni in multivarka
To cook an omelet with ham and macaroni in multivarka, we will need:
Boiled pasta - 300 g, egg - 5-6 PC., ham - 200 g, a tomato - 1 PC., bow - 1 PC., cheese - 150 g, milk - 100 ml, salt, spices - to taste, greenery, butter.
How to cook an omelet with ham and macaroni in multivarka?
1. onions clean, vegetables washed and cut into middle-sized slices or cubes. Cheese grate, ham cut into cubes.
2. In a bowl, mix the eggs with a piece of grated cheese (about 2/3), salt and pepper, piece of cheese left on posypku.
3. multivarku inis on 40 minutes in the "Baking" mode, When it warms up, add the butter and lightly fry the onion and ham.
4. Then lay the layers of tomatoes, boiled pasta, pour on top of the egg-cheese mixture and sprinkle with grated cheese.
5. Close lid and continue to cook in the same time before the end of the program.
6. Serve with greens and fresh or canned vegetables.
Cooking Tips:
This dish is convenient, that you can optionally add it to the other ingredients, eg, boiled potatoes, boiled carrots (Crude pre fry with onions), zucchini, cauliflower, green pea.
Instead of ham you can take other meat or boiled meat, poultry.
How to cook an omelet with ham and macaroni in multivarka recipe videos: