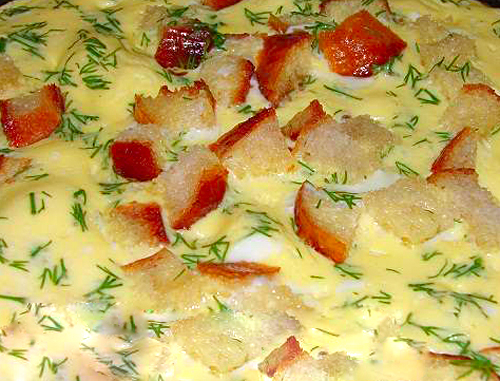 Scrambled eggs or omelets with croutons distinguishes ingredients availability and ease of preparation. In every house there is a few eggs and bread, and a full hot main dish will be ready. Multivarka help save it from excessive dryness, Omelet turns out very tender. If the bread is dry, can be pre-soak it in milk, then gently squeeze before frying.
Omelet with toast in multivarka
To cook an omelet with toast in multivarka, we will need:
egg - 5 PC., slices of white bread - 8 PC., milk - 0, 5 c., melted butter - 3 st.l., salt and spices to taste, greenery.
How to cook an omelet with toast in multivarka?
1. Slices of fresh bread cut into small portions.
2. multivarku put in "Baking" mode 30 minutes, warm melted butter and lightly fry the bread slices on both sides until golden brown for 10-15 minutes.
3. Beat eggs with milk, add salt and pepper, you can add chopped fresh herbs, Pour the egg mass on toasted bread and continue "Baking" mode yet 15 minutes with the cover closed.