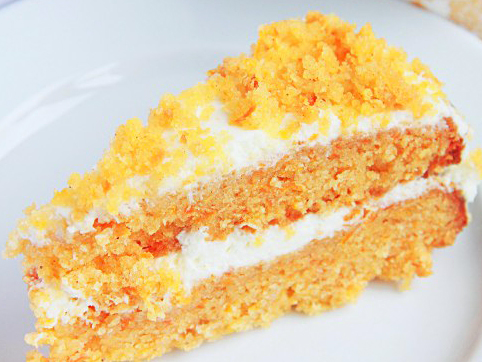 Carrots no doubt, valuable vegetable, in which a lot of carotene, useful for our view. It must be constantly added to food, especially children. But the carrot is to feed the baby and problematic. However, few people refuse a tasty carrot cake, prepared in multivarka! But it has another secret - the air and delicate curd cream! So that, little fussy will not only be delighted with the dessert, but will get many benefits.
Carrot cake multivarka
To cook carrot cake in multivarka, we will need:
4 medium-sized carrots, 2 eggs, 150 g sahara, 150 g butter, 140 g flour, 10 g disintegrant Dough, 40 g walnuts, 10 g vanilla sugar, butter for greasing.
cream: 100 g cheese, Bank of condensed milk, 50 g butter.
How to cook carrot cake in multivarka?
1. Sift flour and mix with vanilla sugar and baking powder.
2. Nuts to grind, carrot clean, wash and grate.
3. Beat eggs until foaming, gradually podsypaya sugar, mixture should turn white and the increase in volume 3-4 fold. Add the softened butter, continuing to whisk.
4. put carrots, nuts, mix and, podsypaya portions flour, kneading dough.
5. Put the dough in a bowl Multivarki, greased.
6. Set "Baking" mode 1 time. If the cake is not ready, add another 10-15 minutes. Believe the willingness of the cupcake you can use wooden toothpicks or a match – it should not remain traces of the test.
7. Cream whipped into a homogeneous mass of soft cheese with condensed milk and butter.
8. cooled, but still warm cake cut into two cakes horizontally, Using a long knife or thick thread. shortcakes, top and sides of the cake grease with cream and sprinkle with coconut or chocolate, We put in a cool place for the impregnation 3-4 o'clock.
Carrot cake recipe videos multivarka: