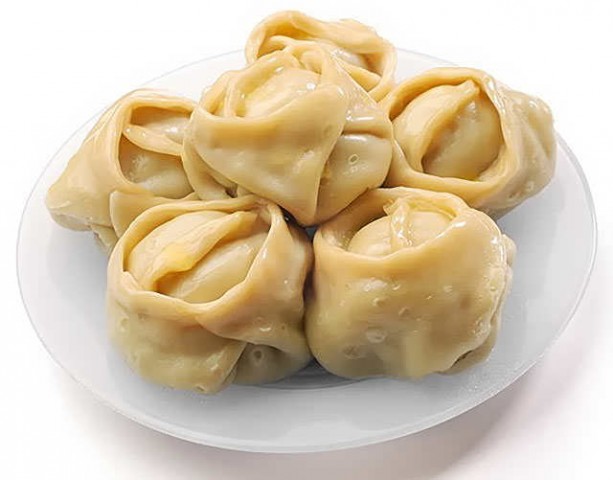 Manta - a flour dish of Central Asian nations, in some ways similar to dumplings. The fillings are meat, meat and vegetable or vegetable.
Unlike dumplings, which are cooked in plenty of water, prepared for a couple of manta rays. Sometimes their first fry in oil until golden brown, and then brought to readiness for a couple. Multivarka allows you to improve the process of making dumplings, they it does not dry out, remain juicy, well keep their shape. Manty with meat are well known, try to cook them with pumpkin and potatoes, because the pumpkin is so useful, but the taste does not disappoint!
Manti with pumpkin and potatoes in multivarka
To prepare the dumplings with pumpkin and potato, we will need:
for the dough: wheat flour - 0,5 kg, egg - 1 PC., salt- 1 ch.l., water - 1 Article.
For the filling: pumpkin - 0,5 kg, bow - 2-3 PC., potatoes - 2 PC., salt, spice (koriandr, Zira), greenery, vegetable oil.
How to Cook manti with pumpkin and potatoes in multivarka?
1. From components to knead the dough for unleavened dough, cover with plastic film and let rest in bed.
2. At this time, prepare the filling: and purify my pumpkin, onions and potatoes. Onion cut into thin half-rings, potatoes and pumpkin into small cubes.
3. All mix, onion compress, that he gave juice, add spices, chopped greens and salt. If desired,, you can add to the stuffing cubes of mutton fat.
4. Roll out the dough thinly and cut out enough circles, a diameter of about 8-10 cm. They decompose stuffing and fastening the ends using any method, some of them are shown in the video below.
5. Container for cooking on a couple of grease with vegetable oil and lay it prepared manti.
6. multivarku set mode "Cooking for a couple" on 50-60 minutes, a cup of hot water pour Multivarki, about 0,5-0,6 l. Cooking mode before the end of.
7. Serve dumplings with sour cream, butter, herbs and spices.
How to Cook manti with pumpkin and potatoes in multivarka recipe videos: