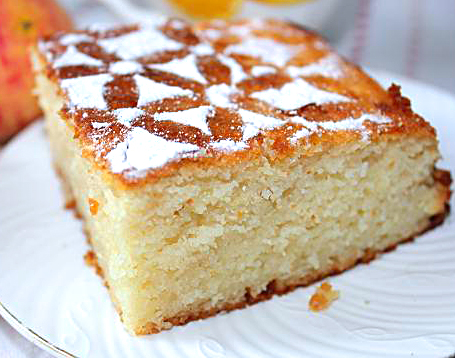 In the use of semolina, especially for children, no doubt. However, not all children love it. There is an exit! Prepare manna, so even with different fruits or nuts, and the question of the unloved ladle disappear by itself. This cake will taste with pleasure all households, and the guests he was not ashamed to file!
1. Manna with apples in multivarka
To cook apple manna in multivarka, on the need:
Semolina - 200 g, yogurt - 150 g, -200 g flour, apples - 400 g, sugar - 150 g, egg - 3 PC., butter - 100 g, baking powder - 1 ch.l., cover - 1 no. l.
How to cook with apples manna in multivarka?
1. Semolina, place in a bowl and pour in the yogurt 30 minutes for swelling.
2. Beat eggs and sugar with the help of a blender, Put the softened butter, continuing to whisk. The mixture connect with kefir weight, add cinnamon or vanilla, pinch of salt, baking powder, stir and gradually add the sifted flour, continuing to stir until smooth dough.
3. Rub the grated apples, grease cup Multivarki butter and pour half of the dough, then evenly spread out on the stuffing malic test surface and fill it with the remaining test, Smooth out.
4. Bake manna in the "Baking" mode 1 time. Check his readiness with a toothpick, if there is no trace of batter, The cake is ready.
5. Remove the manna using baskets, steamers, inserting it into the cup and turning it into a basket.
6. You can sprinkle with powdered sugar or manna pour sour cream, whipped with sugar.
Cooking Tips:
Manna can be prepared with any fruit or berries, eg, cherry, raspberry, apricots, strawberries, but at the same time, If you spread them as a layer between the test, then sprinkle with juicy fruit starch, that they did not drop to the bottom.
Prepare manna and can jam, which also laid between layers of dough, as fruits.
The dough can add a sweet poppy, cocoa, figs, prunes, apricots and candied.
Baking powder can replace soda, that is quenched by adding to kefir.
2.Manna with raisins and nuts in multivarka
To prepare the manna with raisins and nuts in multivarka, we will need:
Semolina - 1 c., flour vyssh.sorta - 1 c., yogurt - 1,5 c., egg - 3 PC., butter - 100 g, walnuts - ½ st., Raisins - ½ st., a pinch of salt.
How to cook the manna with raisins and nuts in multivarka?
1. Semolina pour kefir, stir and leave to swell for 30 minutes.
2. Nuts grind, raisins reassemble, scald with boiling water and pat dry.
3. Add the soft butter and eggs, stir well the mixture, adding sugar, salt, then raisins, nuts and flour, and baking powder.
4. Multivarki bowl brush with butter and bake 40-60 minutes in the "Baking" mode.
5. Serve, manna sprinkled with powdered sugar or cocoa powder, with jam or sour cream sauce.
How to bake the manna in the sour cream and decorate it with a stencil, See the video: