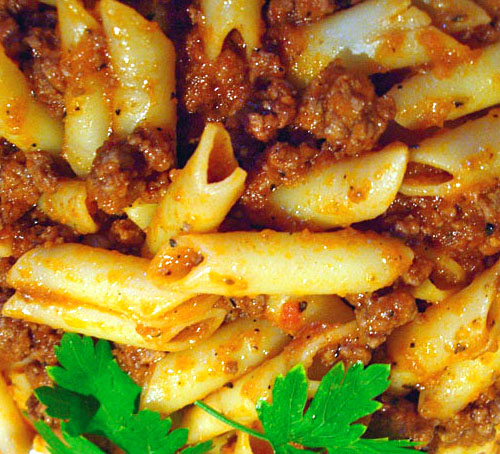 It is believed, that pasta with dried meat have been popular since ancient times sailing fleet. After a long journey, which lasted for many months, stocks were salt meat, and then stew, pasta or cereals, so convenient for transportation in the long march. The dish turned out satisfying, simple and like sailors, and later included in the classic cookery.
Pasta nautically in multivarka
To cook pasta in nautically multivarka, we will need:
Bow - 1 PC., carrot - 1 PC., butter - 50 g, minced pig-beef - 200 g, pasta - 200 g, salt, ground black pepper - to taste.
How to cook pasta in nautically multivarka?
1. Peel and wash the onions and carrots, then chop the onion - small cubes, carrots - julienne or rubbed on a medium grater.
2. In a bowl put oil Multivarki, onion and fry in the "Frying" mode 5 minutes, stirring, then put carrots, continuing to fry another 5 minutes.
3. After putting minced vegetables and continue to fry for another 20 minutes, You can close the cover, but do not forget a couple of times to prevent, the dish is not burnt. Program "Roasting" disable.
4. Absorb pasta, better in the form of the cylinder in the 4-5 cm, or horns, and fill them with hot water, to completely cover the products.
5. Add salt and pepper to taste and continue to cook in the "Pilaf" about 20 minutes, prevent the contents in the middle of cooking.
6. The cooking time is to turn off program, check the readiness of dishes, if necessary, cook until ready yet 10 minutes with the lid closed in the "heating".
7. Serve with fresh vegetables and herbs.
Video recipe for pasta in nautically multivarka: