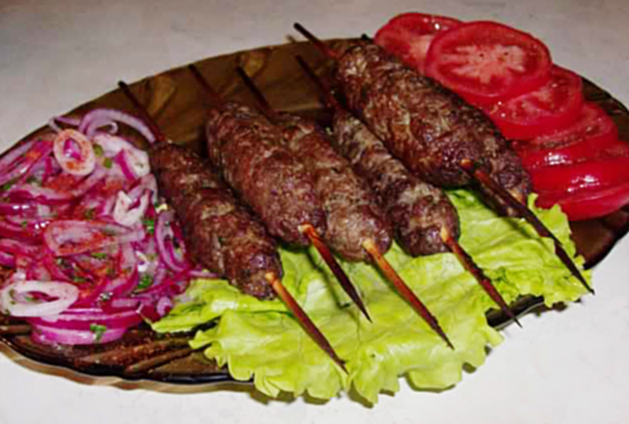 Kebab in Persian literally means "grilled meat-tube". This dish is minced natural chopped meat with the spices, which is strung in long sausages on skewers and fried in hot coals. The name emphasizes the shape of the dish, because it really looks like a ready-made meat "tube". Tasty and very juicy dish turns into multivarka.
Kebab at home in multivarka
To prepare kebab in multivarka, we need:
Chopped meat (preferably from lamb) – 0,5 kg, bow -1-2 PC., garlic - 2-3 cloves, parsley or coriander - small bunch, spice (black pepper, dried basil, oregano) – 0,5 ch.l., salt, lemon juice. (sometimes even minced add egg yolk)
How to cook kebab in multivarka?
1. Meat wash and scroll through a meat grinder with a large grille.
2. Onion peel and finely chop, garlic passed through the press.
3. Greens wash and finely chop.
4. mix the minced, bow, garlic, greenery, kitchen herbs, and well mixed salt. If it was very thick, you can pour a little soda water, so Lula will be more air. Now you should knead well with your hands, but no spoon and knock the stuffing on a cutting board or bowl, until it becomes viscous. Divide it into sections for convenience.
5. If there is no patience to knead minced, in this case,, add egg yolk 1 eggs and mix thoroughly. Put the stuffing in the cold for
ripening on 2-3 o'clock.
6. Begin to mold kebab in a small oblong sausage, which taper towards the ends, continuously immersing the hands in cold water.
7. At the bottom of the bowl Multivarki prostelite oiled baking paper and lay it received lula (You can use the foil).
8. Install program "Bake" and roast sausages on 8-12 minutes on each side with the cover closed. Check readiness in the usual way - by pushing the meat fork, if the juice is clear, lula ready.
9. In another method, can just fry kebab. To do this, pour into a bowl of vegetable oil and turn the program "Baking/Roasting", (or "Control" 120aboutWITH) overfill party kebab in a bowl, obzharivaya on 8-10 minutes each side with the lid closed, if necessary, extend roasting. frying time depends on the degree of heating and sizes lyulya. If desired,, you can lightly fry until brown each side, and then put on 30 minutes in the mode "Stewing".
10. Serve, generously seasoned with herbs, marinated in vinegar onion. Do not forget the fresh tomatoes and cucumbers, pita. If desired, the insert into ready sausage wooden sticks. certainly, can be baked kebab and immediately on sticks, pre-soak their half an hour in water, but multivarka them fit much less servings.
11. Often a kebab served tomato sauce of pureed tomatoes blanched, garlic, hot pepper and green coriander.
Cooking Tips:
Though kebab traditionally prepared just mutton, but no less delicious, it is obtained from beef, Pork mince, and Chicken. Prepare minced even potatoes.
Meat should be chosen young, moderately fat. If the fat is not enough, add a bit of sheep fat, but not in any way old, it would ruin the taste. You can add lard or ghee.
How to cook kebab in multivarka recipe videos:
)