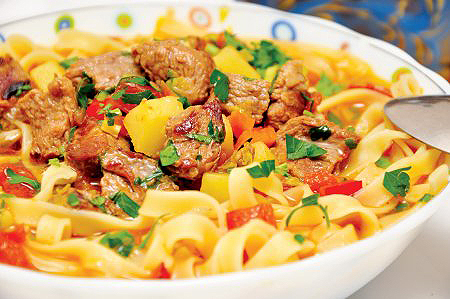 Laghman - a dish from Central Asia, which clearly and harmoniously combines a variety of tastes: vegetables, meat and noodles cooked in a special way. distinguish Uzbek, tadjikskuyu dunganskuyu raznovidnosti lagman, they have a somewhat different composition of products. The dish consists of two parts - a special lagman noodles and vadzhi, which is a meat, stewed with vegetables and fragrant oriental spices. If you do not have time to cook noodles, it is allowed to replace it on the pasta, eg, spaghetti.
Laghman in multivarka
To prepare Lagman in multivarka, we will need:
0,5 kg empty space, 400 Mr. noodle, 3 PC. potato, 2 PC. carrots, 1 radish, 1 beet, 1 PC. bell pepper, 100 g cabbage, 3 PC. Luke, 4 PC. tomatoes, 1 head of garlic, vegetable oil, green coriander, by 1 no. l. black and red pepper, salt to taste.
How to cook Lagman in multivarka?
1. prepare vegetables: clean and wash, wash and dry the meat. cut potatoes, radish, tomatoes, the meat into small cubes. Bow, pepper - rings, cabbage, carrot, beets - straws, garlic, finely chopped.
2. multivarku set in the "Frying / Baking" mode, on 20-25 minutes, Pour oil in a bowl and wait, until it warms up.
3. Put the meat in the cup, and to a crisp fry with its cover open, stir. Add the onion and continue to fry, put the tomatoes and put out more 5 minutes with the lid closed before the closure mode "Frying".
4. Add the remaining vegetables, spice, salt, garlic, 1,5-2 multistakana hot water, that it almost covered the vegetables. Multivarku put in "Quenching / Soup" mode 45-60 minutes.
5. for 5-10 minutes before the end of the program separately put to cook noodles or spaghetti in salted water, then recline on sieve, so that the water is completely drained.
6. Serve Lagman should be in a deep bowl,, putting into it the noodles, which is then poured over the meat and vegetable sauce, on top of all sprinkled with finely chopped greens. To taste each adds his plate pepper and garlic.
How to cook Lagman in multivarka recipe videos: