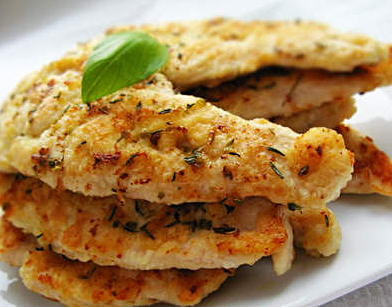 Chicken cutlets breaded in the original can be called a real culinary temptation. No one will believe, that their preparation cope inexperienced cook. In multivarka roast chicken chops - a pleasure, because oil is not sprayed, and the dish will turn out not overdried, very juicy. Besides, the meat does not absorb the excess fat, because literally fried to a tablespoon of vegetable oil.
Chicken chops multivarka
To cook chicken cutlets in multivarka, we need:
Chicken breast - 0,5 kg, 1 egg, 50 d mayonnaise, salt, red and black pepper, dry grass, vegetable oil, breadcrumbs.
How to cook chicken cutlets in multivarka?
1. Rinse chicken breasts and pat dry, cut into pieces and gently beat off the blunt side of a knife. Spice up, salt.
2. Egg and mayonnaise, lightly beaten. In a bowl pour the breadcrumbs and mix it with pulverized dried herbs, eg, oregano, Provencal herbs, etc..
3. multivarku set in the "Frying / Baking" mode, Pour the oil and wait until it warms up a bit.
4. Chicken cutlets dipped in egg, mayonnaise mixture and breading.
5. Prepared chops lowered into the hot oil and fry until golden brown with the cover open, approximately 10 minutes on each side.
6. Serve with any side dish, you can sprinkle with herbs.
How to cook chicken cutlets in multivarka recipe videos: