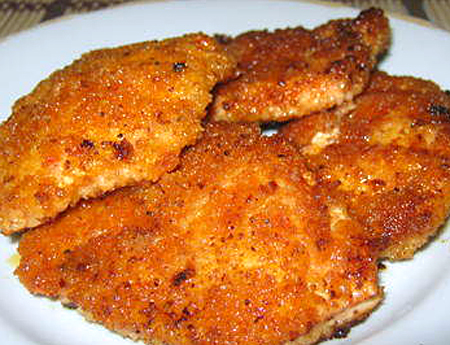 Chicken dishes can be prepared at least every day, for one or another technology, they are not stale, because cooking options myriad. One of them - the chicken-fried. It is hearty and tasty dish, and preparing it quickly and easily. Such fillets are not ashamed to file and to the festive table. Multivarka perfectly cope with the deep frying, none the worse, than the deep fryer.
Chicken fillet fried in multivarka
To prepare the chicken fried in multivarka, we need:
chicken fillet – 200 g, egg - 1 PC., breadcrumbs, vegetable oil, salt, spice.
How to cook chicken in oil in multivarka?
1. Chicken breasts to cut into fillets and lightly beat off, sprinkle with salt and spices.
2. multivarku set in "Baking / Roasting" or "Multipovar" mode 160aboutC 15 minutes. In a bowl pour the vegetable oil for frying in deep fat, about 0,7 l, start roasting, when the oil is fully warmed up.
3. Beat the egg and dip the fillets to cut first in the egg, then roll in breadcrumbs. As soon as the oil heats up, start frying fillets. Put the fillets in a grid for frying and immerse it in boiling oil, bring to a readiness. Net after roasting pull out and attach to the body, Wait a few minutes, to glass excess oil (roasting can be done and without a net).
4. Serve chicken with vegetables, mashed potatoes, rice or pasta of choice.
How to cook chicken in oil in multivarka recipe videos: