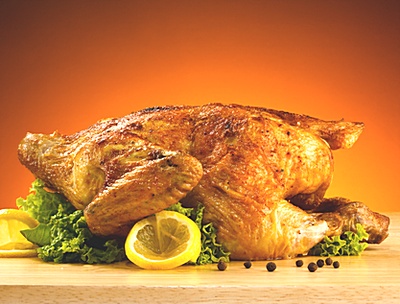 Hen, baked multivarka, tastes like chicken, the famous Georgian tobacco. It is obtained with a well-fried crust, but it literally melts in your mouth. One of the main advantages of Multivarki, you will be well appreciated by all means, because the preparation of chicken with this assistant, or oven walls remain clean, Do not spill grease, and they will not have to then wash.
Hen, baked entirely in multivarka
To cook chicken, baked in multivarka, we will need:
Chicken broiler small (0,9-1,2 kg) – 1 PC., garlic - 5-6 cloves, Any seasoning for chicken (eg, adzhika, hops-suneli),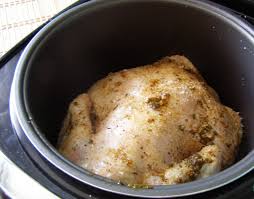 cream - 100 g, salt and ground black pepper – to taste.
How to cook chicken, baked in multivarka?
1. chicken wash, dry towel (paper can), cut down the
breast, salt, pepper and sprinkle with spices for chicken.
2. Sour cream mixed with mashed garlic, and smear the chicken well on all sides.
3. Bottom and sides of the bowl Multivarki oiled, put the chicken back down.
4. establish the program "Baking " 30 minutes, chicken breast to turn on and start the program again "Baking" on 20-30 minutes.
5. Serve baked chicken with a side dish of your choice, or with fresh vegetables.
Cooking Tips:
On the fat and juice stand out from the frying chicken, you can cook potatoes. Previously prepared and cut into slices or potato cubes, should fry "Baking" mode 30-40 minutes (time depends on the potato varieties), in the middle of frying mix, add chopped onion.