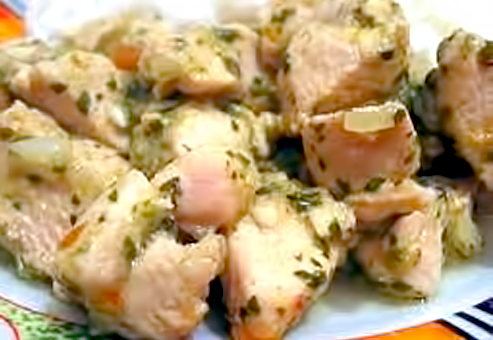 Chicken - a dietary product, which is perfectly assimilated by our body.
known, that it contains large amounts of protein, promotes rapid saturation and recuperation. Curiously, tryptophan, which is a part of the amino acids of chicken meat, treats depression and stress and insomnia. Multivarka help keep all the nutrients of the product, thus saving power for its preparation.
Chicken in sour cream in multivarka
To cook the chicken in sour cream in multivarka, we will need:
Chicken meat - 1,5 kg, cream - 200 g, bow - 1-2 head, garlic - 0,5 head, oregano or olive grass - 0,5 st.l., salt, pepper - to taste, vegetable oil - 2 st.l.
How to cook the chicken in sour cream in multivarka?
1. onions clean, wash and cut into half rings, chicken divided into portions pieces, to treat the skin, removing remnants of feathers, wash and dry.
2. multivarku set in "Baking / Roasting" mode, Pour into bowl and heated oil.
3. Onions dipped in a bowl and lightly fry, about 5 minutes.
4. Put in a bowl of meat, fry until browned on both sides with the cover open in the program "Bake", approximately 10 minutes from each side. Do not forget to stir, then sprinkle with salt and spices. Program "Bake" disable.
5. establish program "Putting out" on 1 time. If young chicken, the cooking time can be shortened.
6. for 10 minutes before the end of the program We are laying the grass, garlic, sour cream, mix, close the lid and cook until the end.
7. Serve with potatoes, pasta, buckwheat or rice, sprinkle with fresh herbs.
How to cook the chicken in sour cream in multivarka recipe videos: