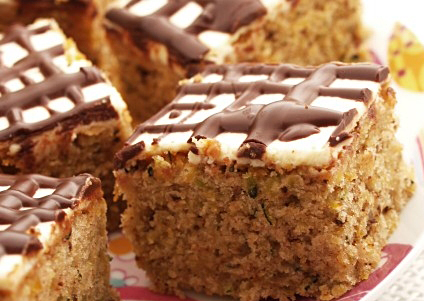 Gingerbread - one of the most simple and unpretentious home-baked goods in multivarka. It can quickly make even a minimum set of available products on hand, eg, jars of jam sugar, or on the basis of honey. Gingerbread is a cross between a cupcake and a carrot. Its structure is more dense, What the biscuit, but more luxuriant, than the gingerbread dough. Often gingerbread add various spices, nuts and dried fruit.
1. Gingerbread on the jam in multivarka
To prepare the gingerbread on the jam in multivarka, we will need:
1 egg, 1 Article. yogurt, 1,5 Article. flour, 1 Article. liquid or syrup jam jam without berries, 0,5 Article. Sahara, 1 ch.l. soda, butter for greasing the bowl, kitchen herbs: cover, carnation, nutmeg to taste, (candied fruit, nuts).
How to cook gingerbread on jam in multivarka?
1. If the jam is too thick, then add a little water, stir. Sugar jam as dilute with water and heat in a microwave oven or a water bath to dissolve the sugar crystals, it is completely cool.
2. Sift flour and mix with baking soda and spices.
3. Egg whisk with sugar to foam.
4. Yogurt, add the jam, Stir and add the beaten egg. Gradually pour the flour, stirring, to avoid lumps. The dough should get as thick cream, if necessary, add more flour. Amount of flour can vary, depending on the thickness used jam.
5. Multivarki bowl brush with butter and pour the dough, Smooth out the surface of gingerbread.
6. Bake in "Baking" mode about 1 time 10 minutes, Leave to cool for another 10 minutes and remove using container-steamers.
7. The finished gingerbread sprinkle with powdered sugar.
2. Gingerbread with honey cream multivarka
To prepare honey gingerbread in multivarka, we need:
2 st.l. honey, 2 eggs, 1 ch.l. soda, 0,5 Article. Sahara, 100 g butter, 4 st.l. 20 % sour cream, 50 g walnuts, 2 Article. flour.
cream: condensed milk boiled -2 ​​tablespoon, cream - 2 st.l.
How to cook honey gingerbread with cream multivarka?
1. Honey mixed with soda in a bowl and leave for 10 minutes.
2. Add sugar to honey, eggs and rub until the sugar is dissolved, set aside for 5 minutes.
3. Melt the butter in multivarka to a liquid state in the "Frying" program, at the same time they miss the mark bowl sides.
4. In a lot of honey add melted butter, Stir and leave for another 5 minutes, mix.
5. Add sour cream and chopped nuts, raisins, candied optional, mix.
6. The weight carefully added portionwise and stir the flour in the same direction until uniform. The dough should have a little thicker, than sour, but fluid in its consistency.
7. The dough is put in multivarku and bake in "Baking" mode 1 time, check the readiness of using matches, if necessary, hold on heating more 10 minutes.
8. The finished gingerbread cut in half with a knife and thread and smear with cream top and bottom crusts, sprinkle with chopped nuts.
9. To prepare the cream: condensed milk whisk sour cream until smooth.
Cooking Tips:
For the cream, you can use a very gentle cream cheese. To make it, mix in a bowl soft cheese - 200 g softened butter – 100 g, add condensed milk 150 g, and a good beat.
Gingerbread cakes can be poured orange juice, mixed with liqueur or brandy.
Video recipe for gingerbread honey in multivarka: