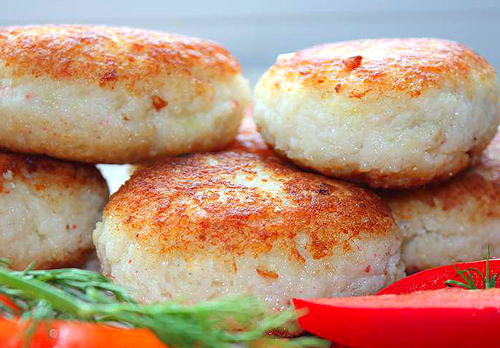 Fish cakes - a great alternative to meat. They are pleasantly diversify the daily menu, Well, and about the benefits of fish known to all. Doctors recommend at least one day a week to do a fish. Cutlets in multivarka can be prepared with a minimum amount of oil, they are obtained really Diet.
Fish cutlets in multivarka
To cook fish cutlets in multivarka, we will need:
Fish fillet - 0,5 kg, potatoes - 0,3 kg, butter, bow -1 PC., parsley, salt, spice, breadcrumbs, vegetable oil.
How to cook fish cutlets in multivarka?
1. Peel potatoes, wash, cut into several pieces, load into the cup Multivarki, to fill with water, salt and put to boil on program "Soup" to readiness, about 20-30 minutes. After cooking, turn off the program.
2. Until potatoes are cooked, of fish fillets cook minced, pre-check, Do not remain in it pits, remove, if they are.
3. Onion peel and finely chop. It will be necessary to lightly fry in butter, cool and add to the stuffing.
4. Cooked potato mash into a puree, follow, to avoid lumps. Wait until the sauce has cooled, and mix thoroughly with the minced fish. Add salt and spices to taste, then finely chopped parsley, again mix.
5. Mold burgers and crumble them in breadcrumbs.
6. At this time, set multivarku in "Baking / Roasting" mode, pour oil, let it heat up and start to fry patties until golden brown on both sides, until ready. If necessary,, the program run again, if all the patties do not have time to fire.
7. Serve with vegetables, pasta or rice, garnish can be any, optional.