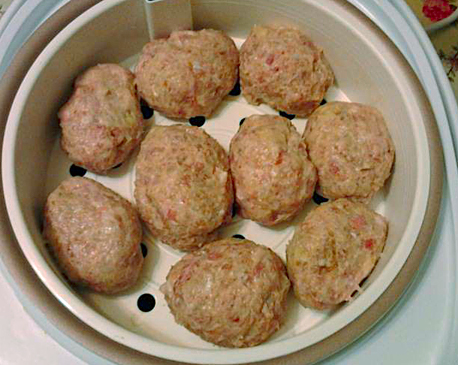 Prepare both a main dish and a side dish in multivarka not be difficult. Because in addition to the main bowl Multivarki kit includes a special container for steaming. It can be perfectly used during cooking first course or side dish, saving considerable time to prepare.
Steam cutlets - the perfect diet meal, which contains fewer calories, than fried products and can be recommended for dieters.
Cutlet with rice steamed in multivarka
To prepare meatballs steamed rice in multivarka we need:
pork - 400 g, Figure - 200-300 g, bow - 1 PC., garlic - 3 cloves, water - 400 ml., salt, pepper - to taste, butter.
How to cook meatballs steamed with vegetables in multivarka:
1. From the pulp making pork minced with a mincer, add onions, garlic, salt and pepper to taste. Thoroughly mix and molding patties, in the middle you can put a little butter. Bowl-steamer lubricating oil, to burgers do not stick and laid them.
2. Multivarku set at regime "Deception steam" on 30 minutes, Pour into a bowl of washed rice, We pour a little water and it prisalivaem. Set top container with cutlets, include start.
3. Serve with greens and fresh vegetables.
How to cook meatballs steamed rice in multivarka recipe videos (the method №1):
)
Cutlets with steamed potatoes multivarka
To cook steam cutlets in multivarka we need: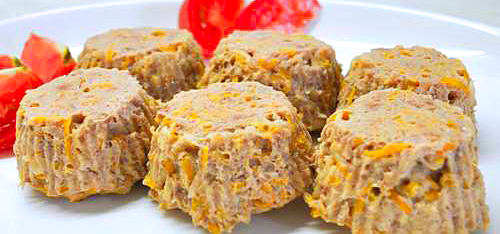 forcemeat (pig, beef or poultry ) – 700 g, egg - 2 PC., bread - 2 slices, bow - 1-2 PC., milk - 50 ml, potatoes for garnish - 4-5 PC.
How to cook steam cutlets in multivarka:
1. Soak bread in milk white. my, Clean and chop the potatoes.
2. In the beef add the eggs, mix, We are laying the finely chopped onion and soaked bread, solim, plumelet, once again stir and repulse.
3. Form the patties and laid in a greased container for steaming.
4. Multivarku set in mode "Cooking for a couple" on 30 minutes, nalivaem 0,4 l of hot water, fall asleep potatoes, solim.
5. We put container with meatballs and include start.
6. Potatoes can knead, add butter and hot milk. Serve cutlets with potatoes, herbs and vegetables.
Cooking Tips:
The stuffing can be added small cubes of boiled carrots, peas, finely chopped green onions. These patties will look nicer, they can be recommended for baby food.
Patties can be formed with the help of silicone molds for cupcakes or muffins, they are very original look. Lubricate the pre-molds oil, patties will be easier to get.
How to cook meatballs steamed in multivarka recipe videos (method №2):
)