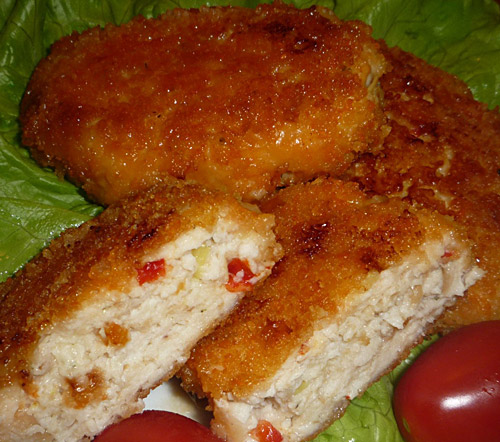 Cutlets poultry tasty, helpful, but, often, are more dry, than meat. This is easily avoided, if you cook them in multivarka, applying after frying cutlets "Quenching" mode. Cutlets turn out juicy and tender, try!
Cutlets from poultry in multivarka
To prepare chops poultry meat multivarka, we will need:
Minced chicken or turkey - 0,5 kg, carrot - 1-2 PC., bow - 1 PC., egg - 1 PC., stale bread, white - 100 g, milk - 0,5 c., salt, pepper, breadcrumbs, vegetable oil.
How to cook cutlets of meat poultry multivarka?
1. Carrots and onions to clean, Rinse. Carrots are rubbing on a fine grater, onion mince or chop. Bread without crusts soak in milk and squeeze.
2. Minced meat mixed with vegetables, beaten egg, soaked bread, season with salt and add the spices, knead well.
3. Formed into patties and breaded in bread crumbs.
4. multivarku set in "Baking / Roasting" mode, pour oil and heat.
5. Fry patties should be with the lid open on two sides, until golden brown, approximately 5-8 minutes on each side. If necessary,, Mode switch again, if it ended before, fire than all burgers.
6. When all the burgers will be ready, mode "Baking / Roasting" disable.
7. All fried cutlets put back into multivarku, adding some hot water and install "Quenching" mode 20 minutes for, to give them a greater richness and splendor.
8. Cooking chops poultry multivarka and can be steamed, To do this, they should not be breaded. The bowl should Multivarki pour hot water to half volume, Container for cooking on a couple of grease, put him in the chops and set multivarku. Choose mode "Cooking in steam", Cook 30 minutes with the lid closed.
9. Post burgers with any garnish and sauce or sour cream, not forgetting to sprinkle with herbs.
Cooking Tips:
The patties poultry can add a variety of vegetables, that much variety of food, eg, bell pepper, zucchini, colored and white cabbage, Not be amiss and greens. Vegetables should be finely chopped.
Very unusual and delicious burgers Chicken obtained with various fillings, which are laid inside the cutlets in the formation of. Try stuffing of finely chopped dill or parsley, grated sыra. For juiciness inside the burgers often add a piece of butter.