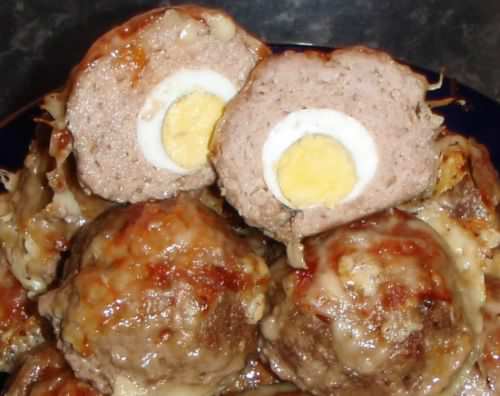 Cutlets with quail eggs are not only useful, but also very tasty. Is not such an unusual burgers not decorate your table, even the festive? Try them cook this recipe, they will enjoy all, especially children!
Cutlets, Stuffed quail eggs in multivarka
To prepare the burgers, Stuffed quail eggs in multivarka we need:
0,5 kg meat or minced chicken, 2 and chicken 8-10 quail eggs, 7-8 tomatoes or 2-3 st.l. tomato paste, 100 g of dry white bread without crusts, flour, 1/2 Article. milk, bow- 2 PC., oil for frying, greenery, salt, spice, garlic, cream.
How to cook meatballs, Stuffed eggs in multivarka?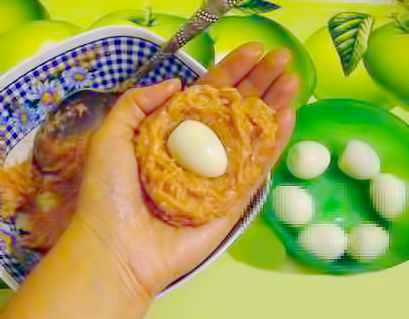 1. Cook the quail eggs, clean. Soak bread in milk. Chopped tomatoes.
2. Onion peel and 1 head grate, it will go to the stuffing. The second cut to roast in gravy. In the beef add raw eggs, bow, soaked bread, salt, pepper, garlic and fresh herbs, well mixed, put in to cold 15 minutes.
3. Minced meat rolled up balls and roll them in boiled eggs, making in the ball groove, roll in flour. Fry in hot oil in slow cooker mode "Bakery products" (put on 40 minutes) by 5-8 minutes on each side to a light brown. After that, all fried cutlets, We begin to make gravy for them.
4. Fry the chopped onion in a bowl on mode "Baking/Roasting" to rumânosti, add tomatoes or tomato paste and sour cream, Add salt and pepper to taste, little boil.
5. The gravy put fried chops and put "Quenching" mode 45-60 minutes.
6. Serve with sauce and garnish any: rice, potatoes, vegetables or salad.
Cooking Tips:
If the tomato sauce did not taste, it can be replaced with sour cream sauce, or simply pour into the cup a little water during fire.
If you prefer do not put out the cutlets, then cook them until tender, until you stand out clear juice when pressed with a fork.