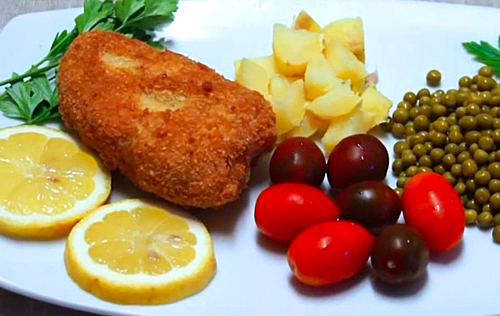 A well-known and popular all over the world chops recipe in Kiev received another, very original interpretation of this dish, because instead of chicken used here fish fillets. This dish will appreciate even those, who are absolutely indifferent to fish. In multivarka these cutlets cook very easy, oil will not be sprayed in all directions, they get much juicier due to the effect of languor in oil.
Chicken Kiev fish in multivarka
To cook Chicken Kiev fish in multivarka, we will need:
Fish fillet - 0,5 kg, parsley – beam, 100 g cheese, butter - 50 g, salt, pepper, egg - 2-3 PC., flour, breadcrumbs, vegetable oil - 0,5 – 0,7 l.
How to cook chicken Kiev fish in multivarka?
1. Prepare the stuffing for meatballs - finely chopped parsley, rub cheese, mix them. Butter divide into pieces approximately 10 g and send in the freezer for a while.
2. Fish fillets wash, obsushivayut and slightly repel, sprinkle with salt and spices.
3. In a bowl, beat eggs, and flour and breadcrumbs pour into individual plates.
4. On fillet formation put a piece of frozen butter, spoon filled with cheese and greens and turn the fish fillets in the form of burgers, neatly clipping seams toothpicks.
5. multivarku set in "Baking / Roasting" mode or "Multipovar" at 160 ° C to 15-20 minutes, Pour the oil and wait, so that the oil is well warmed.
6. Cutlets rolled in flour, then in the egg, in breadcrumbs, then again in egg and breadcrumbs and immersed in hot oil. Fry for about 5 minutes on each side until golden brown. Ready cutlets take out on the dish, We take out the toothpicks.
7. Serve with potatoes, salad, vegetables or other garnish as desired.
Cooking Tips:
Toppings for burgers can be any, at your discretion, eg, fried mushrooms, pickles and boiled eggs, braised cabbage, rice, carrots, and more.
Instead of toothpicks, you can use thread tying cutlets, which must be removed before serving dishes.
How to cook chicken Kiev fish recipe videos: