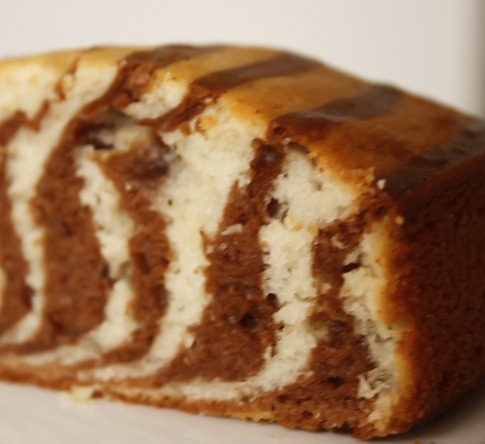 An interesting and unusual-looking cupcake "Zebra" and really looks like a striped zebra because of its charming bars. This cake decorate any tea party and enjoy all, multivarka to cook it is not difficult. Mix all ingredients, Put in a bowl, turn on the desired mode - and take care of business, until the signal end of the program would not call for tea!
Cake "Zebra" in multivarka
To prepare the cake "Zebra" in multivarka, we will need:
3 eggs, 0,5 Article. 15-20% sour cream, ½ c. Sahara, 1 Article. flour, 50 g butter, 1 ch.l. baking powder, 1,5 st.l. cocoa.
How to cook the cake "Zebra" in multivarka?
1. Sift flour and mix with baking powder.
2. Beat eggs and sugar until the reception of foam and an increase in volume, about 2 minutes, gradually adding the softened or melted in the microwave butter and sour cream.
3. The flour is added in portions and stir well until homogeneous.
4. Divide dough into 2 parts and one part add cocoa, stir well the mixture.
5. Multivarki bowl greased and pour batter on 3 st.l. in the center of the bowl, alternating brown and white dough, Finally, you can apply a surface pattern, making the radial line from the center to the edges of the bowl with a toothpick or wooden stick.
6. bake the cake in "Baking" mode 1 time, Then leave the cake in the heated 10 minutes. Check the readiness of the cake with a toothpick or a match, he's ready, if it is dry. Pull out the finished cake with the help of a container for steamers.
7. The surface of the cake can be decorated fruit or nuts, grease jam or cover glaze, and cut it into pieces and rub cream.
The second version of the cake with chocolate stains - a cupcake "Marble", dough it can be cooked like with cocoa, and chocolate.
Cupcake "Marble" in multivarka
To prepare the cake, "Marble" in multivarka, we will need: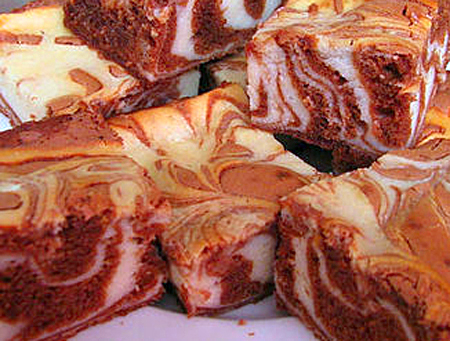 200 g sahara, 200 g butter, 200 g flour, 3 eggs, 100 g chocolate, a pinch of salt, 1 ch.l. baking powder for the dough, 0,5 st.l. cocoa.
How to cook a cake in marble multivarka?
1. Melt chocolate in a water bath, piece of chocolate can be ground on a grater.
2. Oil whisk with sugar around 10 minutes to splendor, add eggs one at a time and continue beating, add salt.
3. Gradually pour the flour portion, mixed with disintegrant and gently stir.
4. Divide dough into two portions, wherein one of them must be less than half.
5. In the lower part of the added cocoa, then the chocolate and stir.
6. Multivarki oiled pan, capturing and sides, just sprinkle flour. Pour a light piece of dough, and pour on top of the second, then a spatula to make a few circular divorces on the surface, and then gently grasping the dough from the bottom upwards. Do not stir too long, otherwise, all mixed into a homogeneous mass.
7. Bake the cake about 65 minutes in the "Baking" mode, Give a cake stand with the lid closed yet 10 minutes, turning off the heater and pull on a dish with a towel or steamer.
8. Decorate with icing or powdered sugar.
How to cook the cake "Zebra" in multivarka recipe videos: