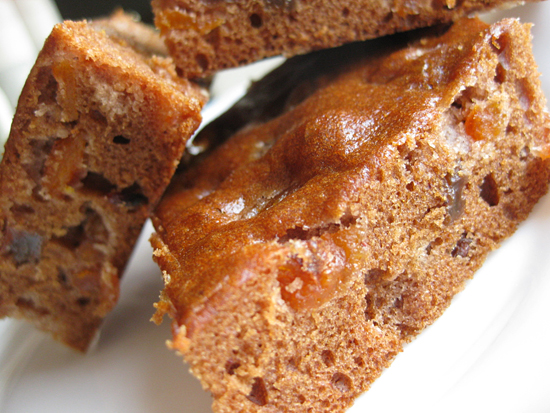 they, who are fasting or adhere to a vegetarian lifestyle, know, that sometimes I find something tasty to tea shops is problematic. The same problem is also facing those, who can not eggs because of problems with health. If you have multivarka, these issues are solved. Try to cook it, these are very simple and delicious recipes for muffins and gingerbread.
1. Honey gingerbread with nuts in lean multivarka
To prepare gingerbread honey lean with nuts multivarka, we will need:
100 g vegetable oil deodorized, 3 st.l. honey, 1 Article. water, 150 g sahara, 100 g of nuts, 1 Article. flour, 1 ch.l. baking powder, spices - 1 ch.l. (cover, carnation, nutmeg, ground ginger), 1,5 st.l. instant coffee.
How to cook honey gingerbread lean with nuts multivarka?
1. Nuts are lightly fry in a frying pan, cool and grind. Flour mixed with flour, spices and baking powder.
2. Water nahreyte, add vegetable oil, honey and sugar, Stir until sugar is dissolved, in the end, add the instant coffee.
3. Flour, add the liquid, Stir until smooth. The dough will consistency like thick cream, add nuts.
4. Multivarki bowl brush with butter, Put the dough and bake 1 hour in the "Baking" mode. Gingerbread still be cool 10-15 minutes with the lid closed, and remove it with the help of the liner from the double boiler.
Cooking Tips:
Try the gingerbread with dried fruits, eg, with dried apricots, prunes, figs or raisins, add them together with nuts.
2. Cupcake-cake in lean multivarka
To prepare the cake, a cake in lean multivarka we need:
flour - 2 c., sugar - 1 c., vegetable oil - 0,5 c., cocoa - 6 ch.l., 1 Article. any juice, 1 ch.l. baking powder for the dough, 0,5 ch.l. soda, slaked 3% vinegar, vegetable oil for greasing the bowl.
cream: 2 Article. orange juice or any other, 2-3 st.l. Sahara (taste), 3 st.l. Mancala.
How to cook a cake in lean multivarka?
1. mix sugar, juice and vegetable oil by using a mixer.
2. Sift flour and mix with baking powder and cocoa, then baking soda to extinguish vinegar and pour into flour, mix well.
3. The liquid mixture was prepared by gradually adding flour and gently stir until the batter, then long whip it for uniformity.
4. Bowl Multivarki grease with vegetable oil and pour the cooked dough, smoothed. Bake in "Baking" mode 1 time 20 minutes, remove and leave to cool.
5. To prepare the mousse cream-: orange, or other juice to your taste, pour into a saucepan and add the semolina and sugar in it. Stir and heat over low heat until boiling, stirring constantly. boil mixture 10 minutes and put, that it has cooled slightly. For this dip pan to the tank of cold water. When the mixture has cooled slightly, whip it using a mixer until fluffy and homogeneity.
6. Razrezhte cake horizontally into two cake, grease with a cream-mousse and add your favorite fruit. The top and coat with cream and decorate with fruit, eg, pineapple, strawberries, oranges. You can use chopped nuts or dried fruits. Let soak a cake and serve.
Video recipe of the cake, cake lean in multivarka: