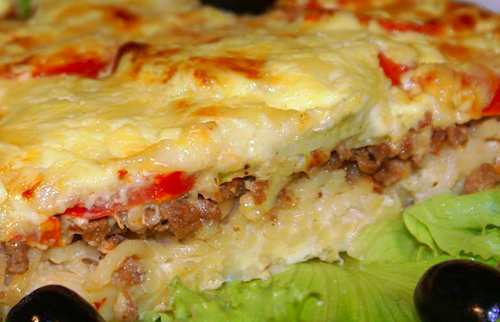 In a casserole of potatoes and meat combine traditional taste beloved by many potatoes and minced meat. This dish can be a variety of different spices, and minced, except tomato, add carrots or other vegetables, eg, cabbage, zucchini.
Potato gratin with meat multivarka
To cook potato casserole with meat, we will need:
potatoes - 1 kg, minced - 500 g, bow - 2 PC., a tomato - 1-2 PC., cheese - 100 g, oil for frying, butter, eggs - 2 PC., salt, spice, garlic, greenery, breadcrumbs.
How to cook potato casserole with meat multivarka?
1. Peel the potatoes, cut and boil in salted water, By setting "Cooking / Soup" multivarku mode on 40 minutes.
2. Drain off excess water and to prepare mashed potatoes, Add the butter and eggs, beat with a mixer to puree splendor, salt to taste.
3. In a bowl pour the vegetable oil Multivarki heat and fry the minced meat, add finely chopped onion, garlic and tomato, salt, Spice up. Roasting perform on the program "Roasting / Baking" 10-15 minutes.
4. Multivarki bowl thoroughly greased with butter, sprinkle bottom and sides with breadcrumbs, for easier removing casseroles. At the bottom evenly distribute mashed potatoes.
5. On puree put a layer of roasted minced and smooth, sprinkle with minced grated cheese. multivarku set in "Baking" mode 40-50 minutes.
6. When serving decorate with greenery, fed with cream or ketchup.
How to cook potato casserole with meat multivarka recipe videos: