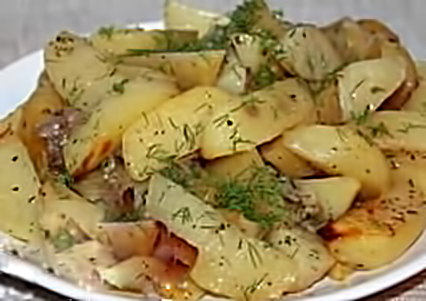 Try an unusual combination of potatoes and apples. You will need to just all cut, and put in a bowl, multivarka and will quickly make a meal, almost without your participation.
Potatoes braised with apples in multivarka
To cook the potatoes stewed with apples in multivarka, we will need:
potatoes - 0,6 kg, cheese - 150 g, cream - 100 g, ketchup - 2 Article. l., mustard - 1 Article. l. bow - 1-2 PC., an Apple - 1-2 PC., salt, dill, spice.
How to cook potatoes stewed with apples in multivarka?
1. Potatoes, onions and apples clean, washed and cut into slices netolstym.
2. Prepare the sauce of sour cream, ketchup, mustard, chopped fresh or dry dill, diluted with water (0,5 c.).
3. In a bowl Multivarki spread layers of potatoes, an Apple, bow, repeating layers. Each layer is sprinkled with salt and spices to taste.
4. Pour all the sauce on top and put "Quenching" mode, disabled via 30-40 minutes.
5. Open the lid Multivarki and sprinkle the contents of the cup grated cheese.
6. Multivarku set in "Baking" mode 30- 40 minutes.
7. Serve as a side dish or a separate dish with fresh or canned vegetables or salad.
How to cook potatoes stewed with apples in multivarka recipe videos: