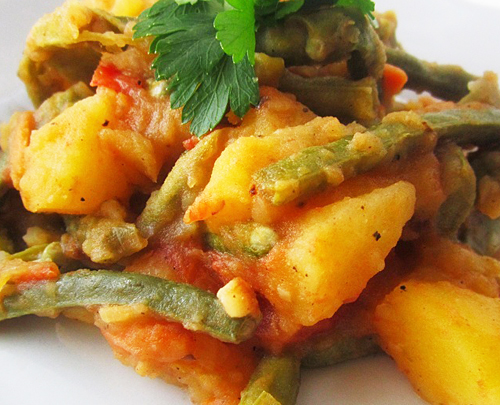 Green beans - an excellent source of easily digestible vegetable protein and vitamin C. There are in its composition and other beneficial vitamins and minerals, such as the B vitamins, TO, E, BUT, potassium, magnesium, copper, zinc, calcium. it is low in calories, It reduces the risk of cardiovascular disease, It helps with the wrong metabolism, lowers cholesterol. Very well with potatoes and peppers.
Potatoes with green beans in multivarka
To cook the potatoes with green beans in multivarka, we will need:
8-10 PC. potato, 0,5 kg struchkovoy fasoly, 1-2 sht.luka, garlic, 1 bell pepper, salt, spice, 1 st.l. tomato paste or 2 PC. a tomato, vegetable oil, greenery.
How to cook potatoes with green beans in multivarka?
1. Potatoes, bell pepper and onion to clean, wash, arbitrarily cut. Green beans washed and cut into pieces.
2. In a bowl Multivarki pour vegetable oil and fry the onion in "Baking" mode.
3. Add potatoes, struchkovuyu fasol, bell pepper, garlic, salt and spices, some hot water, Stir and set "Quenching" mode. Cook 30-40 minutes.
4. Serve with fresh herbs as a main dish, or as a vegetable garnish.
Cooking Tips:
The dish can add carrots, it is usually fried until golden with onion. Because vitamin A is better absorbed, because it is fat-soluble.