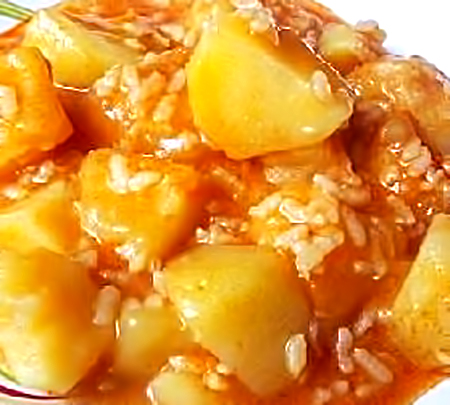 Potatoes and rice - this is quite unexpected, but unexpectedly tasty dish.
Potatoes turns in a wonderful combination of vegetables and tomato sauce, and rice in the company at an opportune. Multivarka help minimize the effort for its preparation. As a result, you will find a full and healthy dish, which perfectly fills.
Potatoes and rice in lean multivarka
To cook the potatoes with rice multivarka, we will need:
0,5 kg of potatoes, 0,7 Article. rice, 5-6 garlic zubochkov, 1-2 bulbs, 2-3 tomato or 1 st.l. tomato paste, 1 carrot, 1 bell pepper, salt, spice, vegetable oil, greenery
How to cook potatoes with rice in lean multivarka?
1. vegetables clean, Rinse, Smaller cut, Carrots can be rubbed on the grater. Figure rinse well, until the water is clear.
2. In a bowl pour the vegetable oil Multivarki, fry onions, carrots until slightly browned in program "Baking / Roasting".
3. Add tomatoes, mix. Lay the potatoes and rice, Pour hot water, that it covers products, salt, put spices, garlic and fresh herbs. If not used tomatoes, and tomato paste, it must be diluted in water to fill. Program "Bake" disable, install "Quenching" program on 1 time.
4. Serve with fresh or canned tomatoes, cucumbers, green peas.