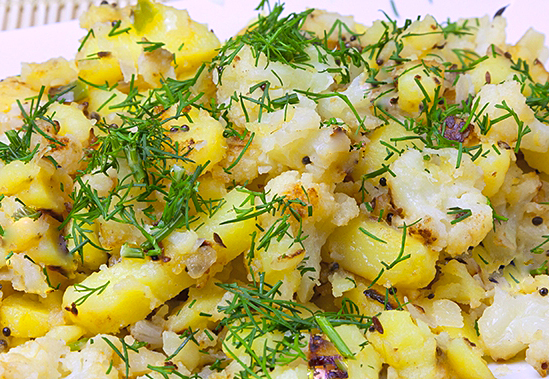 Potatoes with cauliflower - very tasty dish, and especially in combination with such as a curry spices, Provencal herbs, as well as with parsley or celery. This vegetable stew can be used as a main dish, And as a side dish to meat, chicken or fish. Not bad fit stew and pasta. In multivarka cook it - a real pleasure, because the oil is not sprayed constantly stand over the stove owner is not necessary.
Potatoes with cauliflower in multivarka
To cook the potatoes with cauliflower in multivarka we need:
0,5 kg cauliflower, 5 PC. potato, 1 PC. carrots, 1 bulb, 1 st.l. salt, pepper to taste, garlic, 2 st.l. vegetable oil, greenery, spices to vegetables to taste (curry, dried basil, Provencal herbs, Oregano and others.)
How to cook potatoes with cauliflower in multivarka?
1. vegetables clean, Wash and chop. diced potatoes, onion half rings, carrots grate or cut into strips. Rinse cauliflower and parse it into florets.
2. In a bowl Multivarki pour oil and fry the carrots and onions in "Baking / Roasting" mode for 10-15 minutes before browning.
3. Then add cauliflower, potatoes, solim, add spices, some hot water or broth in preparing and "Baking" mode 40 minutes. During cooking, stir a couple of times. When serving sprinkle with dill, stew ready to offer sour cream or tomato sauce.
Cooking Tips:
In the preparation of the dish, you can add fresh tomatoes or tomato paste, bell pepper, and sour cream.