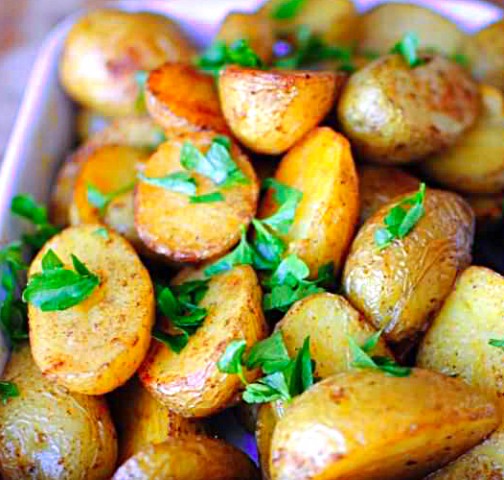 Prepare the garnish baked potatoes in multivarka! On the palate, it resembles the, which once prepared in a rural furnace. Multivarka helps create a constant thermal regime, similar to the process in a wood stove longing, but the fat and oils for the preparation of this dish will require very little, making it a low-calorie and helpful.
Potatoes baked in multivarka
To cook baked potatoes in multivarka, we will need:
potatoes - 10 PC., vegetable oil - 1 st.l., lard - 1 st.l., greenery, salt, spices to taste.
How to cook baked potatoes in multivarka?
1. Potatoes clean and wash, then dry and cut into slices on 4 parts.
2. multivarku set in "Baking" mode, or "Multipovar" on 170aboutWITH, Pour the butter and add fat, to warm.
3. Potatoes dipped in hot oil, add spices, Cook 45-50 minutes, be sure to mix gently a few times during cooking, salt.
4. When serving sprinkle with herbs.
Cooking Tips:
Potatoes take those varieties, which not too long boil soft.
Small and medium-sized potatoes can be baked whole, well washed rind brushed. Having spread on the bottom of the silicone mat, greaseproof paper, or a piece of culinary sleeves for oven. In this case, the oil and fat do not use, and the cooking time can be increased, if the verification of the willingness, it is still wet.
How to cook baked potatoes in multivarka recipe videos: