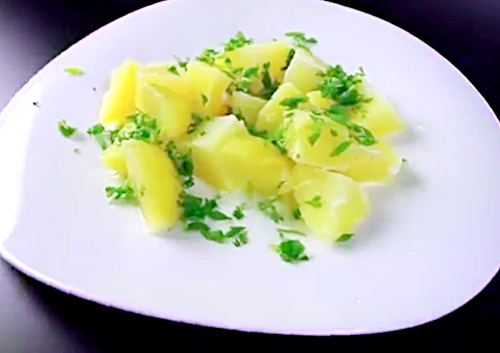 boiled potatoes can be served as a side dish to any main course - meat, fish, vegetables, yaychnytse, macaroni. In multivarka, boiled in milk, it turns saturated creamy taste, It does not fall apart and keeps all the nutrients.
Boiled potatoes in multivarka
To cook the potatoes boiled in multivarka, we will need:
potatoes - 600 g, milk - 0,7 l, salt, spice, butter, bow - 1 PC., greenery, garlic.
How to cook boiled potatoes in multivarka?
1. Prepare potatoes: it must be clear, wash, cut into slices.
2. onions cleanse, my and cut into half rings.
3. Multivarku install mode "Deception steam" on 30-40 minutes.
4. In the bowl of potatoes Multivarki download, bow, pour milk, season with salt, Add spices to taste, garlic (optional), Mix and place the butter.
5. When serving sprinkle with herbs, Pour sour cream or ketchup.
How to cook boiled potatoes in multivarka recipe videos: