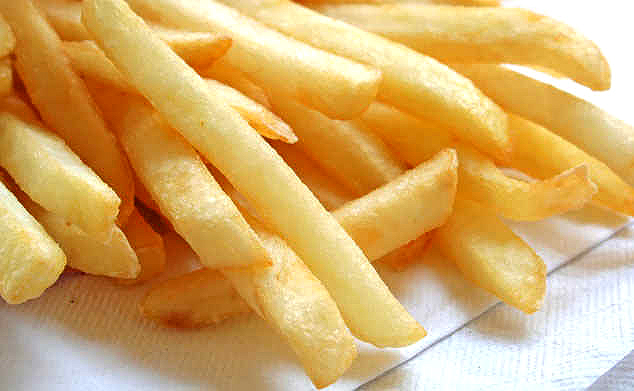 french fries - a popular dish, which has a lot of fans around the world. And this story began potatoes in Belgium. Exactly there, During the Second World War, potatoes, deep-fried, Belgians treated to American soldiers. The name of the potato "fries" comes from the word "deep-fry", but to reduce it reminded soldiers of their precious word "freedom", so then it became commonly called.
Americans are so fond of this simple recipe, they brought him home, in America, and later took him to McDonald's network in the "arming", ensuring the victorious march of French fries around the world. Multivarka perfectly fulfills the function of the fryer, so prepare it fries is not difficult.
French fries in multivarka
To prepare fries in multivarka, we will need:
1 kg of potatoes, finely ground salt, vegetable oil - 1 liter.
How to cook the fries in multivarka?
1. Potato peel and wash, Drain well.
2. Cut the potatoes first crosswise into not thick plate in 1 cm, and then cut them into cubes along by 1 cm. Try, that the wedges are of equal size. The sliced ​​potatoes are preferably rinsed in ice water from excess starch, and then well dry cloth.
3. multivarku set in "Baking" or "Multipovar" mode 170aboutWITH. Pour into a bowl of butter and wait until it warms up.
4. For roasting, use a special basket for frying, it is necessary to put sliced ​​potatoes. If the basket is not, overfill the potatoes directly into the bowl with hot oil. Roast potatoes in small portions, loading it on the half grid, so it is better fried.
5. Set the basket in the bowl and cook the potatoes 20-30 minutes with the lid closed. Cooking time is very dependent on the variety of potatoes and the power Multivarki. Take care, to not overcook the potatoes, look at his state around the middle of cooking. Salt French fries should be only after cooking.
6. When the roast is over, mesh should be fixed on the bowl, to glass excess oil, but not more 15 seconds. Potatoes spread on a dish and salt to taste, We serve hot. If the potatoes are fried in a bowl, then pull it with a slotted spoon.
Cooking Tips:
Potato fries very quality affects potato variety. It should not quickly boiled soft, be too starchy, such potatoes will not work with a crust. Do not use new potatoes, it is still too loose.
Choose a potato for fries, which is easily cut with a sharp knife is not too.
Do not use damaged or potatoes with green skin, it contains toxic substances.
Oil take any vegetable, deodorized, according to taste.
The potato should not interfere with the preparation, in a pinch, Only once in the middle of cooking, If the underside of the already well-fry. Try to pry the potatoes with a spatula edges and flip it over the reservoir at the same time.
Remember, that the used frying oil, should no longer be eaten, it becomes harmful.
If the potatoes are fried, and "brewed", so, this strain is not suitable for deep-frying or heating temperature insufficient.
Often potatoes for fries are advised to put in the freezer, at least for 15-20 minutes, Frozen potatoes will not absorb the excess fat.
How to cook the fries in multivarka recipe videos: