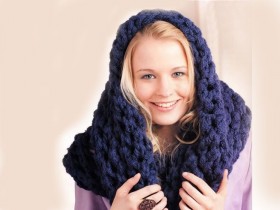 Very original and looks spectacular model of joined together hats and scarf, called a cap-tube-scarf. Assign a product is not just easy, and it is very easy and the strength to absolutely everyone, who owns a little basics of knitting. Currently, it is becoming more and more popular, Yes, and it is not surprising, since it has its advantages:
It is almost all.
just as a scarf, you can use the product or decorating accessory and even to him tie spokes cap.
In cold weather warm a hat and head and neck.
Therefore we advise you to try and make yourself a universal headdress.
How to Knit a Scarf tube: recommendations
If you want to create a seamless product, it is better to knit on knitting hosiery, otherwise the spokes and line, the length of which a little more than the future of the universal fabric headdress.
In that case, if the cap is intended for use in the cold season, it should not be too loose, but too tight a model is not worth doing, to carry it did not cause any discomfort and it was quite supple and beautifully perched on the head.
Openwork patterns, started as a wardrobe element tames, often made wider.
Bound hat scarf tube with a seam, wear better, positioning the product sewn forward part, since in the neck folds and the product is going to be a seam not to focus the attention.
In order for the product beautifully sitting on the head and neck, the edges should be undergirding denser rubber and spokes into smaller, than were taken to the base web provyazyvaniya.
pattern density calculating better after drying the sample Streaky, in order not to add extra loops.
Knit cap and scarf tube, you can use a variety of patterns, but it will be easier and faster, if we take as its basis a simple pattern gum, and a little girl looks best product, linked rubber 1 × 1.
Body width vymeryat based on the density of knitting, and head circumference plus 2-3 cm free encirclement.
The process of creating the tube caps and scarf
Knit cap tube on circular needles
Yarn Trinity, half, consisting of wool and acrylic prepare hosiery knitting needles Pjaterochka. The basic pattern take gum Faceted, Cementing the following scheme: all odd rows 2 LP, 2 iz.p, and even - 1 front, 2 LP, 2 iz.p, and garter pattern for the edge of the article.
Calculate the required number of loops, adjust it to a multiple of four and distribute the four spokes of a knit.
Knit pattern gum product to the desired length, in this case 80 series, then continue knitting more rows stocking st.
For the beauty of the upper portion of the article, you can tuck the edges and sew a hidden seam.
Assign a cap pipe without seams as possible and using circular spokes. For this purpose, at the beginning of a number of loops must be interconnected in a ring for circular knitting.
It is also possible to take a picture of any other main pattern, eg, It looks very nice cap needles pipe circuit, is represented below: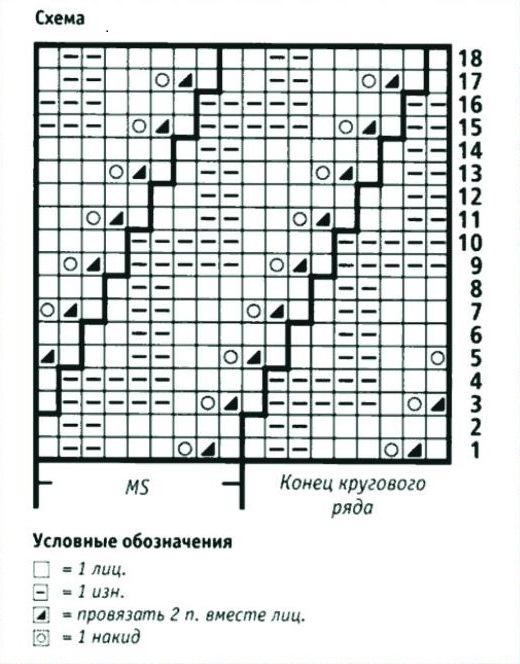 Root knit it should gum 1 × 1 additional thinner needles, and through a series of 10, go to the main pattern, and continue to work to the required length.
Openwork hat and scarf tube, related two spokes
Openwork knit a muffler pipe better circular needles of appropriate size of a fine yarn, such as cotton. Whereupon the product is performed according to the following steps below:
For width scarf 95 see typed 120 petelek.
Two or four rows provyazyvayutsya front embroidery (number of backing, front row).
Then 1 range of facial loops to decrease 4 loops, in each quarter of the canvas.
Then knit scarf tube to the height of the product 40 cm, must be as follows:
Finish knitting products facial next, with a uniform decrease 22 eyelets and 4 rows of the front satin stitch. The result here is a pretty little thing:
Another example of creating a scarf and pipe caps in the following two video lessons: