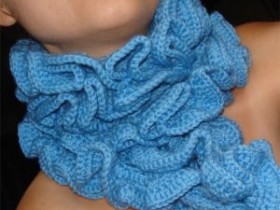 Scarves are one of the simplest products, with which it is best to begin to master the manual knitting, like spokes, and a hook. With hooks can create different densities sharfiki, form and texture, for little children, and adults. It can be a delicate girl's scarf, or severe male, scarf collar or LIC, etc.. Equally nice look similar products both as a summer and spring decorations, and in winter embodiment. Let us consider a few simple examples, which will help to learn to knit crochet scarf, even the most inexperienced craftswomen.
Knitting men's and children's crochet scarves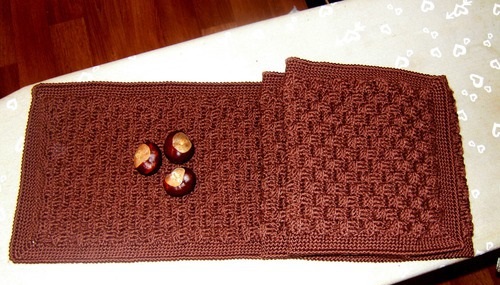 Lighter and easier to tie all the men spoke scarf or children. In the first case, because to create it are usually chosen more stringent and fairly simple patterns, and soothing colors, and in the second because of the small size of the product. The most common patterns crochet for men's scarves are relief patterns. Very stylish looks, eg, scarf presented at the photo on the right:
Fit it as follows::
At the beginning of the work should be to create a sample pattern according scheme, and then calculate the required number of loops selected width sharfika.
Number, received loops so you need to adjust, if necessary, that it can be divided into six plus four loops of the edge and to, to figure appeared symmetrically.
1p. Columns with sc.
2 and 3p. We begin to knit with two lifting loops, whereupon provyazyvaem raised bars in the following sequence: 3 concave relief column, 3 convex relief column. Several complete the column with nakida.
4 and 5 p. Two lifting loop at the beginning, a concave relief columns were binding convex, a concave and convex. Several well as the previous time finish 1 column with sc.
In this sequence knit scarf, until it reaches the desired length. To scarf was more air, the hook is better to take in 2,5 -3 times the thickness of the selected thread, but for those who can not knit in relief columns should read the article how to knit a hook bars.
Tie a scarf male hook can also use conventional columns, without sc, with an emphasis on color. The following, eg, the sample taken is a very interesting combination of black and blue colors: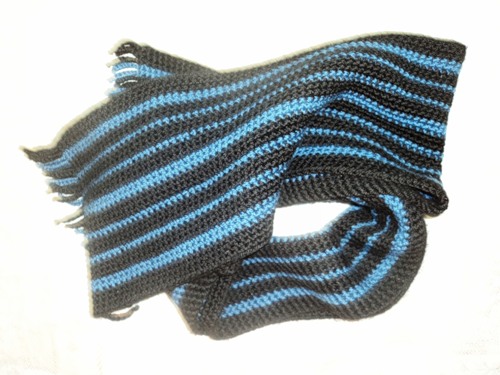 For children's scarf is best to pick up a more vivid and saturated colors. Also in order to make it look more fun for him also made a variety of applications. Girls scarves are knitted more delicate, while for boys the same simple patterns, or with jacquard pattern. For a girl can, eg, tie that's so cute scarf: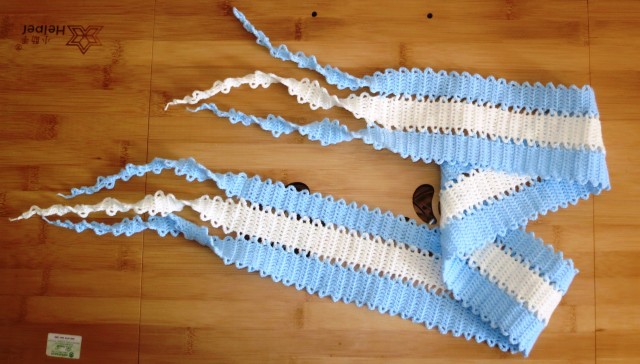 For scarf you need to prepare baby yarn blue and white. As seen in the figure the product is performed with a pattern of three bands, which taper at the edges and at its ends to form a kind of fringe. Main scarf fabric is created from three parts: 2 blue, one of which tally of eight columns with sc, and the other of six and one white, provyazyvaemoy 7 columns with sc.
The ends of each of the items are as follows:
The first broad blue band decreases in the following stages: 1 a number of one-loop subtraction, The following four rows unchanged, in the next row again diminish the loop, then provyazyvaem has four rows and five do decrease, then decrease already do every three rows.
For white and blue stripes thinner decrease is done every five rows, and only at the end of three ryadochka.
Along the edges of the teeth first strapped 5 stitches blue details, and at the same time tying white is necessary to combine it with other parts of, meshing of clove clove.
It is also a very original look with scarves animals, eg, here is a copy of: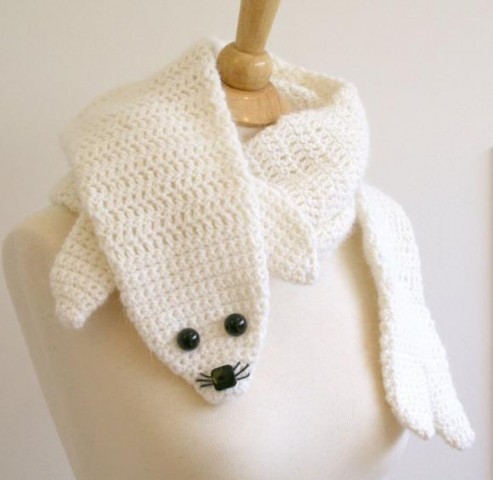 The end of the head scarf or the seal fit columns without sc, and all other parts, including foot columns with sc.
Knit scarf clip or hook LICs
LIC scarf or collar is a great decoration, as well as a good solution for those, who are not very fond of hats, because it can be put on and easy ka scarf, and, if necessary, to cover the head. Knit scarf collar hook can be both with a seam, and without it. In the first case, the web product provyazyvaetsya as a regular scarf, after which the ends are sewn together, or imposed on them and attach the tabs with buttons.

In order to link LIC hook without seams, fabric must be knit in a circle. For this purpose recruited the required number of loops, and then connects to a circle, then subsequent rows provyazyvayutsya selected pattern or simple columns without sc, either sc. With the simple knitting, you can experiment with colors, and more difficult to limit ourselves to one shade.
Tie a scarf clip will hook the following video:
Beautiful openwork scarf
With the hook and thread, you can also create a very beautiful light and airy delicate scarves, which will be a perfect addition to any women's wardrobe. For this scarf, you can choose any of the favorite patterns crocheted, and for beginners make offer below the following, with a rather unpretentious pattern, but no less beautiful scarf: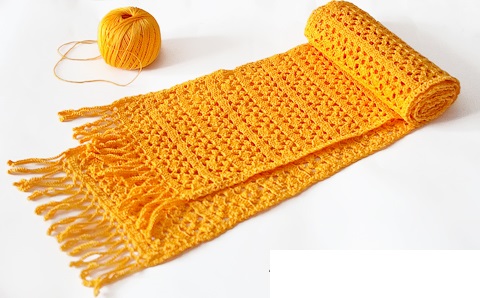 The main fabric is knitted scarf as follows: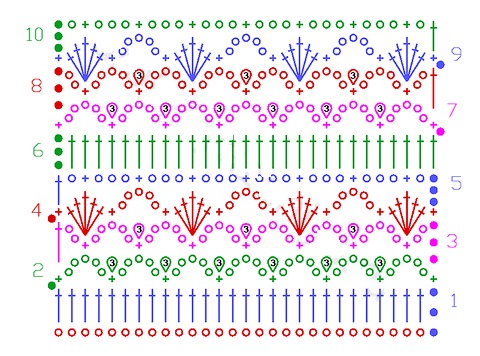 Then along the entire length of the scarf on both sides of the scarf is wrapped columns, without sc, and on the wide side of the teeth of five air loops, provyazyvaem in every fourth series loop. Fringe on the edge of scarf is created as follows::
Make a chain of 28 petelek, Then count the five tabs on the end of an entry in the chain and hook provyazyvaem 1 polustolbik, then again provyazyvaem 20 aerial loops and attach the chain to the middle of the arc. Likewise provyazyvayutsya and the remaining yarns fringe.
A very nice and elegant turns and scarf, the process of creating that signature in the next video:
Learn to knit scarves crochet very easily, so everyone can fill up your wardrobe with a similar product, created with their own hands.