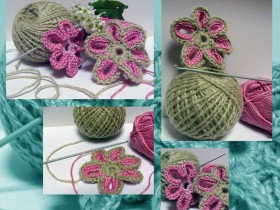 Crochet keeps a large number of different surprises. And one of them is the ability to link crochet flowers. And it can be done as your own decorations for the interior, and make for clothes decorating, sumochek, purses and other elements of women's wardrobe.
Knitted crochet flowers, as jewelry wardrobe
Crochet flowers for applications
For applications very beautiful flowers are obtained, associated with a very interesting technique, called Irish lace. Consider some not very complex schemes, presented in the following video:
Flower of the magnificent columns
Flower of five petals
Knit crochet flower surround
Knit crochet flower, which afford to do, even for beginners:
For this flower is necessary to prepare strands iris white and pink colors and fine hook, and the knitting process is performed by the following scheme below:
Take the pink thread, creating a moving loop and knit crochet flower volumetric follows:
1p. We engaged in a loop 8 columns without sc(st b / n), in the end of the series carry polustolbik and tighten the mobile loop.
2p. In the very first loop of the previous row provyazyvaem *1 st b / n, and lift out of it 7 stitches(pp), then do the following loop 1 Article w / n. * Knitting repeat to end of row from * to *, vyvyazyvaya more 6 petals.
3p. To get involved in each lobe of the arc 9 st b / n. At the end of a number of perform 1 polustolbik.
4p. Take the white thread and make it a loop, which is fixed in the loop of the second row, already linked pink flowers, and doing art w /, then lift * 7 aerial loops in the same loop to get involved 1 st b / n, then provyazyvaem item b / n in the next loop of the number of *. Knitting continue in the same manner, until a total of 8 white petals.
5p. In each petal to get involved: st b / n, polustolbik, 2 column with sc(v s / n), 1 Article with two sc(v 2 / n), 2 v s / n, a connecting bar with nakida,1 st b / n. At the end of a series of make the connection bar.
6p. Take the pink thread and tied her to the edge of a white flower, making each loop of 1 st b / n. Upon completion of all the threads anchoring and hide in web and get here is a pretty flower:
It can also help to learn how to create flowers knit hook shown below:
Knitting crochet flowers in pots
With the help of a hook, you can create and present a small miracle in the form of pots with flowers. This creation can become not only a wonderful decoration and complement any decor, but also a great gift for any woman. Learn to knit crochet flower is not so difficult. Here are some examples, where diagrams crochet flowers, as well as video.
Crochet flowers – primrose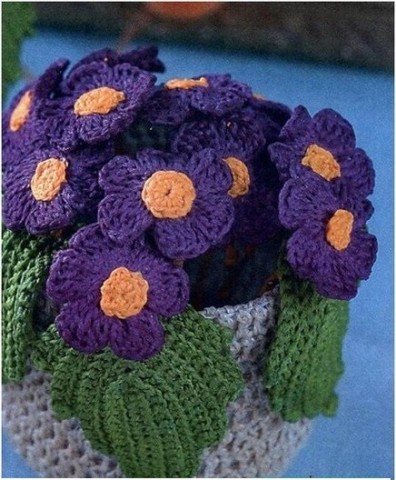 For the manufacture of these colors are preparing yarn purple iris, yellow, green and brown or gray colors, flexible wire, as well as the hook №1. Then knit crochet flowers in pots, in accordance with the following steps:
1.We make a pot. Operation starts brown or gray yarn in the ring, vyvyazannogo five loops. At the beginning of each row do 3 lifting loop, and at the end of the coupling bar.
1p. Provyazyvaem in ring 11 v s / n.
2p. In the first loop provyazyvaem 1 v s / n, and following on 2 v s / n.
3-4p. We start with 2 v s / n. in first loop, then alternate 1 v s / n. in the next st, 2 v s / n. one of a number of loop.
5-16 row. Provyazyvaem PT / NV series of each loop. After that we will be ready to pot.
Instead, the pot can be, bind e.g. vase, as shown in the following video: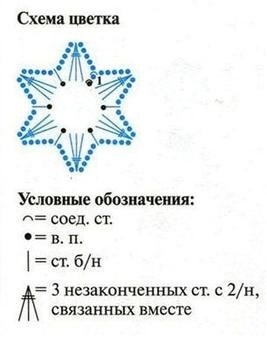 2. Knit flowers. For flowers take purple yarn and make a circle of 6 loops. then knit 6 pp, and do 3 v 2 / n, not provyazyvaya them to the end, with the result that the hook is obtained 6 petelek, which together provyazyvaem, again 5 pp. Then 4 times repeat sequence: 1 v s / n., 5 pp, 3 v 2 / n, not knit to the end and connected together, 5pp. Then we take the yarn and begin to yellow to crochet midway colors. For this purpose, the ring of the three loops to get involved 10 st b / n and fasten thread work, leaving a fairly long its end. Such elements of violet and yellow yarn is necessary to prepare for the future product of 12 stuff.
3. Master leaves. Vyvyazyvayut green thread chain of 12 aerial loops, then knit in a circle on the following scheme below:
1p. The third loop chains to get involved 1 st b / n, 9 st b / n in each loop of the previous row, then execute 2v.p., 8st b / n.
2r.petlya lift, 7st b / n, 2 Article w / n for the arc of the two aerial loops of the previous row,2 pp, then tighter arc 2nd Class w /, 8 st b / n.
3p and subsequent rows are repeated as the second, according to the following leaf:
These leaves to the pot with primulas need to prepare 7 pcs.
4. We make stems for flowers. Each stalk must be cut by 12 cm wire, then carefully pasted over it and attach double-sided tape on top of the middle of a flower, left thread winding wire in a circle.
Once all items are linked by their need to wash and starch, and then assembled into a finished product. To do this, knitted pot can be put on a plastic bucket and secure it with glue, and all other elements are also connected to each other via a needle and superglue.
Crochet violet
Instead of flowers primrose can be linked, such as violets.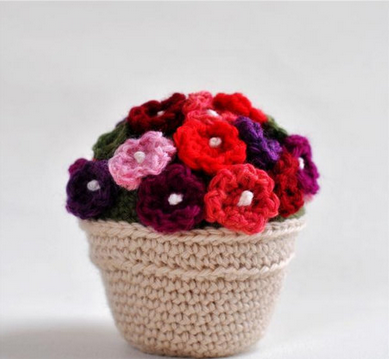 tell, how to knit crochet flower Video, presented below: