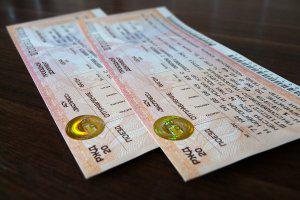 Each trip is accompanied by a large number of concerns. How to book a train ticket? It should be noted, that the booking of tickets for rail preliminary, as tickets are not practiced.
To put your tickets on long-distance trains (the largest term of payment - 3 day since, as you place an order) you can make in a single information and service center of JSC Russian Railways, and take advantage of free phone, which works round the clock: 8-800-775-00-00. Operators of different organizations in each city of the Russian Federation can take your order over the phone.
Get information about these services and their websites you can easily look for in a virtual space. During, when you book a ticket, you will need to provide the operator with all necessary information as to the identity of the potential passenger's identity.
There is also the opportunity to order an independent train ticket using the online order form, which is located on the service portal, you have chosen. The form, You need to specify, in what direction will go, a train, that suits you and a place in the car.
These organizations generally offer a courier service, so you can easily and quickly receive your order.
To put on your ticket through Railways portal, you must be registered. In the process of registration of an electronic ticket, We need to show the utmost attention, carefully fill in the details and data of the passenger trip. One order can contain up to four tickets.