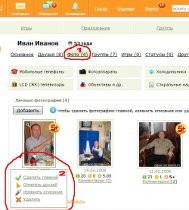 In addition to the standard communication, on the "Classmates", each user of the network is able to share something interesting, I found on the internet. To do this, just add a link to a resource of interest, and your friends will see it in your activity stream.
What is the use of adding a reference to the site?
The user has an opportunity quickly and easily share any information, whether article, clip or game.
it additional opportunity to drive traffic to online resource, if it belongs to the user.
What is the benefit of "Odnoklassniki" here? you ask. It's simple, add links to the pages of the social network is only possible with "Odnoklassniki" partner sites, if the resource is not a partner social networks, and the link to the resource on the "Classmates" will not affect.
The algorithm of adding references to "classmates"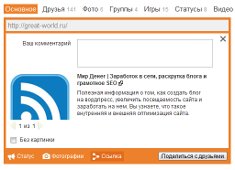 In one window, go to the "Classmates"
In another window, open the resource you want us, that there is a desire to share, eg, youtube.com and open desired video, zhmem Share.
Copy the link and paste it into the status and classmates , sign it, and press the function "Share with Friends" This is so quick and easy to add a link!
Another way to add a reference to the "Classmates"
Open the desired online resource, and copy the address bar Like the site in the browser window to the Clipboard.
Go to the "classmates" with your username and password, select the tab "link" and paste the copied address and click the button "add"
After treatment site request, after a few moments you will see a window, which you will need to add a reference to the description of an invented. commented? Then click "Share with Friends"
How visible, to share in the "Classmates" information from other sources is not so difficult, and now you know how to do it! Everything, than you have shared in the film affect the activity from your friends. A very handy feature, tell your friends about your interests!