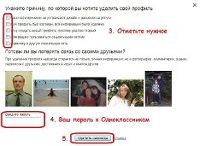 Often, uploaded a photo to a social network, and she suddenly ceased to like, or obsolete, yes there may be a few cases! And what? How to remove this photo from your sight, and above and out of sight of those, who comes to the page? Actually delete the photo from the page to the site "Odnoklassniki" is not so complicated process. let's consider, it highlights stages.
The algorithm remove the photograph from the page to the "Classmates"
Go to the page.
We find in the menu "photo" section, click on it.
On the page to see your personal photos and photo albums. If the photo is located in the evil of personal photos - find it. If the photo is in the album, the left mouse button to open the album and once again looking for a photo.
Mouse click to open the necessary photo. The picture will open the entire computer screen. The right of the photo, you can find a picture of the basket labeled "Delete Photo".
Mouse clicking on the "Delete Photo". On the monitor, there dialog, with the question whether you really want to delete the photo? If there is no doubt - choose the function "Delete"
That's it - no more unwanted photos on your page! And now you have learned this and already know how to delete photos in the "Classmates".