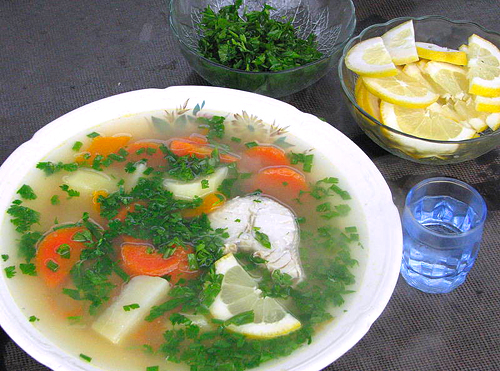 Ear - this is the first hot meal of fish, but still it was not right to call it a "fish soup". At present, the ear is never added zazharki, cereals. In fact, the basis of soup - is a concentrated broth, the resultant cooking of several kinds of fish with vegetables and spices. Later it began to thicken potatoes. Soup cooked from fresh, dried or dried river, as well as marine fish, sometimes to the river fish is added cancers.
Ear from the river or sea fish in multivarka
To prepare the soup, we need to multivarka:
Any marine or freshwater fish of different varieties - 600-800 g, bow 1-2 PC, carrot - 1-2 PC., potatoes - 3 PC., allspice and black pepper - 7-10 PC., saffron, Bay leaf, salt, parsley (greens and root), dill, lemon.
How to cook soup in multivarka?
1. The fish is cleaned of scales, remove (in the presence of) entrails and gills, Rinse. Cut the carcass into pieces, Similar work on file.
2. Bow, carrot, potatoes, root and parsley clean, wash, cut and put in a bowl Multivarki, place the fish on top.
3. To fill with water, add spices, salt.
4. Multivarku set mode "Soup / Quenching" on 40-60 minutes (depending on the type and size of fish pieces).
5. Serve soup, Sprinkle with dill and parsley, optional, you can put a slice of lemon.