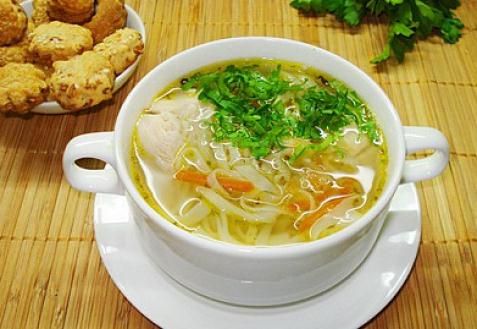 Noodle soup was borrowed from Tatar cuisine, later acquired some additions and widespread in Russian cuisine. There are several types of noodle soup: chicken, mushroom, fish and dairy. In Asian cooking boiled rice noodles with seafood, It happens and pea noodles with chickpeas, It turns out delicious noodles with meatballs.
The preparation of these soups are not complicated, as main ingredient is noodles. The most delicious noodles - home, cooked with his own hands.
How to do it?
Homemade noodles
For the preparation of home-made noodles, we need:
Wheat flour – 400g, egg - 4 PC., vegetable oil - 2-3 ch.l., salt.
How to cook the noodles home?
1. Previously in a bowl, beat eggs.
2. Pour the flour into a bowl, pour egg, add a pinch of salt and vegetable oil, knead.
3. The resulting dough is put on 30 minutes in a refrigerator, wrapped in film.
4. The dough is divided into 4 parts, one part of the starting roll, and the remaining part of the cover film, that they are not dried up.
5. We roll out the dough thinly, sprinkled with flour table, we give dry 5 minutes, then curl up in a roll and cut. Cutting can be a wide, and narrow, at the discretion.
6. Noodles floured, unfold, be dried, then remove the excess flour.
How to prepare a home-made noodles recipe videos:
Chicken noodle soup in multivarka
To cook chicken noodle soup in multivarka we need:
Hen - 300-400 g, onions and carrots - on 1 PC., potatoes 2-3 PC., homemade noodles - 100 g, salt, vegetable oil, dill and parsley, garlic, Bay leaf, pepper - to taste.
How to cook soup noodles with chicken in multivarka?
1. chicken wash, cut into small pieces.
2. Bow, carrot, potatoes clean, wash and cut.
3. In a bowl, pour the vegetable oil Multivarki, include "Baking" mode 30 minutes and fry the onion, then chicken, We turn over through 10 minutes on the other side.
4. Then add the carrots, potatoes, spice, salt, pour broth or water and put in a "soup" mode or "Quenching" on 1 time.
5. for 10-15 minutes before end of cooking garlic to add laurel, laying noodles.
6. Let us give the brew more minutes on the heating 10.
7. When serving sprinkle with fresh herbs
Cook soup noodles can and pre-cooked broth cm. "How to cook broth?".
In this case, first mode "Baking/Roasting"is done zazharku of onions and carrots, Then add the broth and potatoes, and cooking continues in the program The "Soup/Fire" 30-40 minutes.
Or, if not used zazharku, all raw vegetables are put into the broth.
At the end of cooking, In either method,, add noodles and chopped boiled chicken.
How to cook soup noodles with chicken in multivarka recipe videos:
Cooking Tips:
Chicken soup can be boiled, not only with noodles, but also with any pasta.
If, instead of using thin noodles vermicelli, it can be to fall asleep after the end of the program and leave heating on 10-15 minutes.