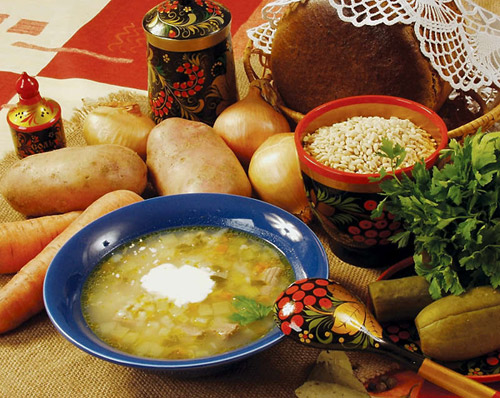 Pickle dish can not be called, is like literally everyone, but, However, he has real fans. They appreciate this soup for the original and slightly sour taste, as well as satiety. This soup is particularly suitable for the cold winter time.
Need to mark, Pickle recipes that so many, in the past, this soup is cooked throughout, and in each province added some own "flavor".
How to cook the pickle in multivarka?
It is believed, that real classic pickle should be prepared on the basis of offal, rassolnik but also cooked with meat, fish, bird, there are meatless rassolnik with vegetables and mushrooms. The pickle necessarily placed croup. And, in accordance with classical concepts, barley suitable for Pickle kidney and beef, Rice - the bird, barley grits - a duck and goose, and vegetarian rassolnik lay buckwheat and rice. In some types of pickle added tomato paste, sour or fresh cabbage. Steamed pearl barley often pre fried in oil or fat, then it will not give a bluish tint Pickle.
We offer you some good options in preparation rassolnik multivarka, it will greatly simplify the process of cooking.
1. Pickle Beef and barley in multivarka
To prepare the pickle in multivarka we need:
Meat (beef) – 0,4 kg, bow - 2 PC., carrot - 2 PC., pickles drum - 7 PC., potatoes - 5 PC., perlovka - 0,5 c., frying oil - 2 st.l., Bay leaf, pepper, salt, small celery root, parsley and dill, pickle cucumber taste, cream.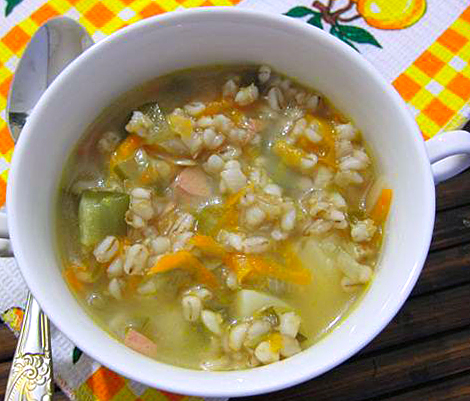 How to prepare a pickle with beef and barley in multivarka?
Pearl barley fill with boiling water and leave to soak for half an hour, from time to time to pour boiling water.
Meat and vegetables wash, then purified vegetables. Cut the onion into cubes, carrots and celery into sticks or cubes, sliced ​​potatoes, cucumber strips.
In a bowl Multivarki pour cooking oil and put the program "Bake" on 30 minutes, laying alternately onions, carrot, Cut the meat for roasting. At the end put cucumbers (some add the tomato paste).
Then add the celery root, spice, potatoes, steamed grits and water below the maximum fill mark, as will be the end of cooking add to taste the brine. Put "Quenching" mode 1-1,5 o'clock. We try for minutes 10 before closure and add brine and bay leaf. Serve with greens and sour cream.
Council: Instead of beef you can take 300-400 g pre-boiled and chopped beef or pork kidney, the soup should be added along with groats.
before boiling kidney beef thoroughly cleaned all films, fat, cut in half and carefully remove all white ureters and ducts.
Then washed and soaked in cold water on 2-3 hours (you can add a little vinegar), changing the water (often kidney and soaked in milk).
During boiling, on a small fire is brought to a boil, as soon as the foam, water is drained, kidney and pan washed well with fresh water and poured, in this way, getting rid of the malodor. Again brought to boiling and act similarly, a third time with fresh water is poured, if desired, add root and parsley, carrot, and cook until tender or cook a little longer half-cut on the kidney pieces already in the process of preparing rassolnik in multivarka.
Kidneys better to boil the whole, and then cut into pieces, it is better to retain their nutritional value.
Pickle, you can also cook with pork and mutton kidneys, The main thing – carefully remove all ureters, pre-cutting the buds in half, and all the fat and film. Wash the kidney and soaked (often lamb kidneys of young animals is not soaked). Further, all operations for manufacturing the same.
For preliminary boiling kidney Use another bowl, instead multivarku, then it will be difficult to clean out the peculiar smell.
2. Rassolnik with chicken and rice in slow cooker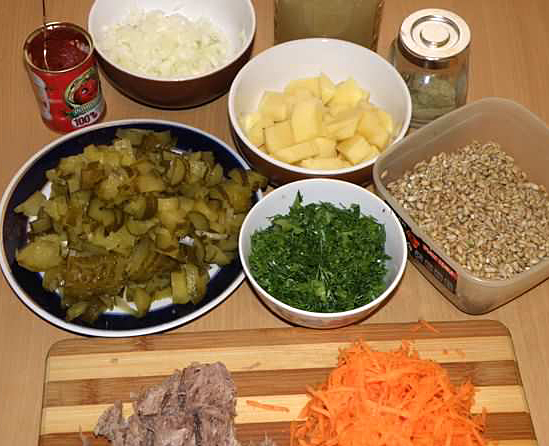 To cook the chicken in pickle multivarka we need:
giblets from two hens, 200 g chicken, 5 pickles, by 1 PC. carrots and onions, 0,5 Article. rice, 3 PC. potato, butter, garlic, greens and parsley, dill, estragon, salt, pepper, brine to taste.
How to prepare a pickle with chicken and rice in multivarka?
Prepare giblets and chicken - is thoroughly washed and cut into medium-sized. vegetables purify, washed and cut into strips, potatoes and onions - diced.
In a bowl add the butter and Multivarki include the "Baking", fry onions and carrots, add the cucumber, gently simmer (you can add a little tomato paste at will), disable the program through 15-20 minutes.
add the potatoes, chicken meat and offal, rice, roots, garlic, spices and salt. Put "Quenching" mode 1-1,5 o'clock, at the end of the brine add a little taste, Bay leaf. When serving add the greens and sour cream.
We offer to view a video recipe for pickle soup in multivarka, note, that Multivarki-cooker soup cooking time is reduced by almost 2 fold: