Today, the cafe and even restaurants can be found a completely different interpretation of grub, this traditional Georgian dishes. For some reason, it is often cooked on mutton and even pork broth, add potatoes, and the rice is replaced by barley. Can, and it turns out pretty tasty soup, but to grub it has nothing to do with.
How to cook the soup right grub in multivarka?
Correct kharcho classic soup is produced only on beef, because the full name of this soup is translated as "beef for the grub". Kharcho distinctive taste sour obtained by the presence in it Mashed sour plum or cherry plum-tkemali, and the scent and light astringent taste from the herbs and ground nuts.
If the hand is not a plum or cherry plum, allowed to add tomatoes, grenade juice or lemon juice.
Spice and the sharpness kharcho give a large amount of greenery and pepper, black and hot red. Greens traditionally used basil and coriander, but it is allowed to replace them with celery, parsley, dill.
kharcho soup classic in multivarka
To prepare the soup with beef in kharcho multivarka we need:
0,5 kg of beef, 0,5 Article. rice, 3-4 bulbs, 2 st.l. sauce tkemali (can be replaced by 10 PC. fresh cherry plum, or 100 g pomegranate juice, or 300 g tomato), 1 ch.l. hops-suneli, 0,5 Article. finely ground walnuts, 0,5 ch.l. crushed red pepper, 0,5 ch.l. coriander seeds, black pepper, half a head of garlic, Covers header - 1 st.l., vegetable oil, Bay leaf -3 PC., parsley, basilica, Kinji rublennaya- on 1 st.l., salt to taste.
How to cook the soup in kharcho multivarka?
1. The meat is washed and cut into cubes. onions cleanse, then all the vegetables and wash the greens and cut. Rice washed well with.
2. Multivarku set at "Baking" mode on 20 minutes and pour vegetable oil, where lightly fried onions, add corn flour, we continue to fry, then tkemali sauce or tomatoes (can add 1-2 st.l. tomato paste).
3. adding water, lay figure, meat, hops-suneli, razmolotыy koriandr, red and black pepper, salt and put in "Quenching / Soup" mode 1-1,5 o'clock.
4. for 10-15 minutes until cooked put nuts, every green, mashed garlic. Infusion can be for some time to hold on heating.
Council: nuts may be ground in a blender or mortar together with garlic pulp before.
How to cook the soup in kharcho multivarka recipe videos
Soup vegetarian grub in multivarka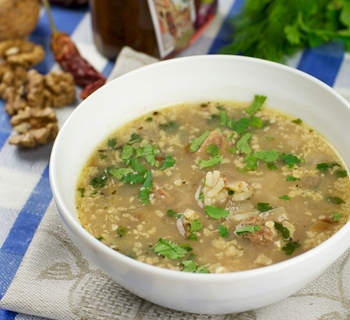 kharcho soup can be prepared without meat and broth, in multivarka meatless soup will turn out not less tasty.
To prepare the soup vegetarian grub in multivarka we need:
0,7 Article. rice, 2 onion head, garlic 4 PC., 0,6 kg tomato, tomato paste - 2 st.l., sauce tkemali -2 st.l., green coriander and basil - a bunch of, hops-suneli, adzhika, salt, black pepper - to taste, vegetable oil, 1 st.l. corn flour, 0,5 Article. chopped nuts.
How to cook meatless soup kharcho in multivarka?
1. Tomatoes peeled. For this pour boiling water and immediately placed in cold water, clean the skin of the knife. Then, finely cut or rub them on a grater.
2. onions cleanse, wash and cut into cubes.
3. Figure thoroughly washed several times.
4. Greens wash and finely chop, grind the garlic press.
5. Multivarku set in "Baking" mode, Pour into a bowl the butter and fry the onion, then add the corn flour and continue to stir fry lightly.
6. put tomatoes, add rice, spice, salt and set "Soup / Quenching" mode 40-60 minutes. for 15 minutes before end of cooking add herbs, nuts and garlic.