Social network "Vkontakte" began to gain its popularity among Internet users 2006 of the year. Here you can communicate even with polls. How to create a poll in "Vkontate", know not all users of the network.
To do this on your wall, you need to click in the box of records on the "What's new with you". With this feature, a user reports its latest news, Update your status and photos.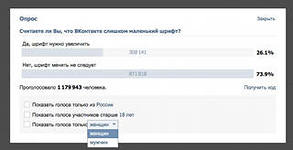 Next, you need to click on the link to the right "Attach". In the window that appears, induced courses in "Other". The last line of the list that appears - "Poll". Once this button is selected Bude, the user can enter in the form of a poll question and answer options.
Create a poll, you can:
in their group,
in another community.
Before you decide, how to create a poll in "Vkontakte", We need to pick an appropriate topic: cookery, movie, psychology and other.