In "Vkontakte" to create the group can each network user. Pod group refers to Community, which communicate and meet people with similar interests. Every day the number of such communities is growing. Here readers share with each other the various information. To lead a group can the user. However, not everyone knows, how to create a group in "Vkontakte"?
Step-by-step instruction
To create a group in "Vkontakte" is required to perform the following steps: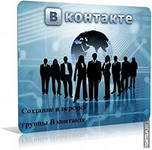 To register on the site in the event, if you have an account.
View your account, clicking in the left context menu "Link" and "My group". After opening with a group of pages, whose members are the user, you can see the invitation to the new community of other users, including their management. In the upper right corner of the button is clicked "Create a community".
In "Creating new community" pop-up window, It spells the name of the group. To create a group, User account must be linked to a phone number. To do this, you need to enter your phone number and the code via SMS.
Edit group, important point question, how to create a group in "Vkontakte"?. Once on the page, where you can change group settings: changing it, title, description and other information. This can be done immediately or after some time.
Group functions - in the settings you can select the desired function of the community. What is the most suitable, denoted by ticks: news, wall, Photo, audio, etc..
Private group - the community can be open or closed nature. The first option is available for all, and the second - only for group members, by sending a request to the administrator of the community. Restrict access to the community for some users, you can use the "Settings" function. After changes, Press the "Save".
Group Administration - clicking "Back to group", select the link "Management of community-members, Leaders". Manage a group of friends can be an administrator or other users. Through this feature, you can invite a group of new readers, You can view information on submitted applications for accession to the Community.
The choice of an avatar for the group using the section "Managing the community" will add the necessary links, changing information about the community.