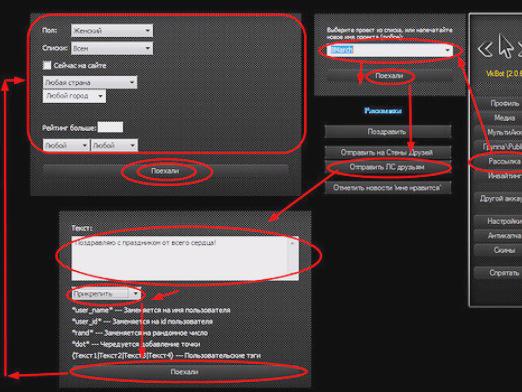 With the development of technology, many business sectors are moving in space online. To sell a product, find like-minded, sign on conducting trainings and seminars, We need to own some of the techniques in social networks.
for example, how to pitch to contact, in order to attract attention to himself, or to offer a bargain? account owners vk.com will be interested in our article.
We hold newsletter through VKBot
among the programs, scripts and plug-ins, to facilitate human communication, VKBot has a leading position.
For business there is an extended version of the program, but the average user enough free options. VKbot free version contains all the features you need and do not harm the user's computer. It can be used to produce large mail in contact.
To use the program, it is necessary to download and install on your computer.
Before you create a mailing VKbot run the program in the start menu.
Open your profile page, click on the "Mailing list".
The label that appears select a project from the final list, or inscribe their name. Adding a small description. Keep, to the number of characters is not exceeded.
check all, that wrote, and click on the word "Go".
Which to choose the type of distribution
In the window that appears you'll see four buttons: "Send a private message to friends", "Congratulations", "Send message on wall", "Noteworthy news "like". Choosing the necessary.
Let's say you want to invite all friends to visit. Click "Send a private message to friends". In the window that opens, you write all, they wanted to bring to their attention.
If you wish to comment on wall posts from friends in one word, choose "Send message on wall". You come up with a message, write and send.
One "But": many are accustomed to use the mass mailing in contact, for your business advertising platform. not important, sell you something, or offer their services, remember to be on the "Spam"button. anyone vk.com, Get the newsletter, can click on this link and resource administration will deliver your corresponding label page.
In cases of gross violation of the rules of the social network spammer may be banned, and his account frozen forever. therefore, learning, how to pitch to contact, you need to soberly assess their capabilities and all the associated risks.