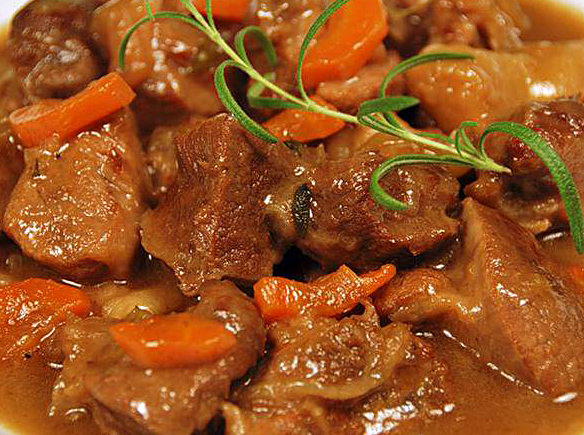 Roasts of the Caucasian can be any - lamb, beef, pork or poultry. Prepared in multivarka dry wine with natural, with Caucasian spices and fresh herbs, any meat happens surprisingly fragrant, soft and juicy. Garnish can be fed fresh vegetables. This hot help to diversify your menu.
Roast meat in Caucasian in multivarka
BUTTo cook a roast in the Caucasian multivarka we need:
Meat (beef, mutton, pork, bird) – 400 g, bow - 3-4 PC., carrot - 2 PC., garlic - 5-8 cloves, tomato paste - 2 Article. l. or fresh tomatoes - 3-4 PC., wine, dry red wine - 0,5 c., Red pepper - 10-20 g, hops-suneli, salt, -by pepper to taste, greenery (basil, kindza, parsley), vegetable oil.
How to cook a roast in the Caucasian multivarka?
1. The meat is washed and cut into small cubes.
2. Prepare vegetables: wash and chop the tomatoes, greenery, garlic, onions and carrots.
3. In a bowl, pour the vegetable oil Multivarki, install the program "Baking / Roasting" and 15-30 minutes fried meat, Stir from time to time. the program disables.
4. In a bowl add the onion Multivarki, tomatoes or tomato paste, carrot, wine, greenery, garlic, salt and spices, some water, mix.
5. install the program "Putting out" on 1 time.
6. Serve hot with fresh tomatoes and cucumbers, greens and pita.
How to cook a roast in the Caucasian multivarka recipe videos: