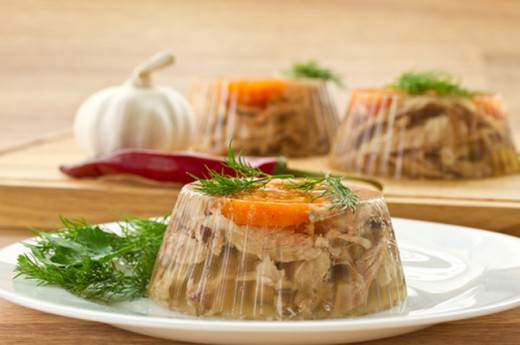 Aspic or jelly - old cold dish, which often appears on the holiday table, and up to the present time. Prepares usually because those parts of the carcasses of pork and beef, which contain a sufficient amount of gelling agents - legs, head, pig ears.
Often jelly also add pieces of meat for saturation. Especially tasty jelly obtained, if it is prepared from pork and beef with addition of poultry meat.
Preparation in aspic multivarka reduces the complexity of its, its preparation is no longer necessary to watch, adding water. Enough to prepare ingredients, to install the program, wait for its completion and ready to pour jelly into molds.
Jelly (chill) in multivarka
To prepare the jelly in multivarka, we will need:
0,5 kg pork shank, 0,3 kg of beef, 1 pork leg, 1 chicken breast, 1-2 PC. carrots, 2 PC. Luke, Bay leaf, 2 ch.l. salt, garlic 0,5 head, allspice and black pepper.
How to cook a jelly (chill) in multivarka?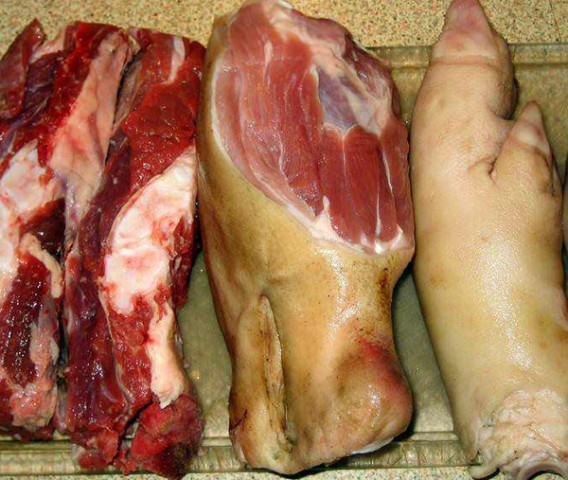 1. Feet thoroughly clean, if there is a knuckle skin, then it is removed. Feet can soak 2-3 o'clock. then the shin, legs and my meat well.
2. Clear the onions and carrots, cut onions into quarters, carrots large pieces.
3. In a bowl put all the meat Multivarki, carrots and onions, salt and spices (except garlic) and pour water on top mark.
4. Set the "Quenching" mode 5-6 hours. After the end of the program remove the onion, Put the meat, we filter the broth. Part of boiled carrots can be used for decoration aspic.
Garlic clean and finely chopped, drop into the broth. Prepare the molds for brawn.
Important: Broth before pouring necessarily once again bring to a boil on the stove.
5. Meat remove from bones, evenly distributed over the prepared pan. Stacked on top of carrots, pour boiling broth with garlic.
6. Leave for cooling table until broth and put in the refrigerator to complete solidification.
7. Serve aspic with horseradish or mustard.
Cooking instructions: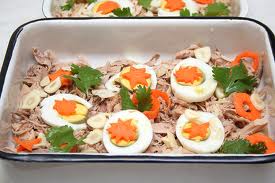 Sometimes aspic decorated with halves of boiled eggs, greenery, which lay in the molds before pouring the broth.
Aspic for better use of the front legs, they are more meat, they have more gelling agents.
If the jelly is produced only from the chicken with the addition of chicken feet, it is better to add gelatine, as chicken legs in a low content of gelling agents.
How to cook a jelly ( chill) in multivarka recipe videos:
)